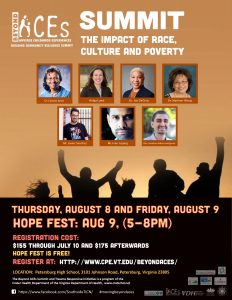 The Beyond ACEs SUMMIT 2019 will give providers and laypersons alike the opportunity to understand the basic language of Adverse Childhood Experiences (ACEs). Persons familiar with the basic language and root causes of ACEs can further explore toxic stress and learn Trauma-Informed Care (TIC) practices. This year is historically significant because it marks the 400th anniversary of the arrival of enslaved Africans to Virginia. It was also a time that marked significant trauma. The information presented will explore the impact of race, culture and poverty both past and present through the lens of ACEs and Trauma. Speakers will present compelling and thought-provoking stories of trauma and resilience. Trauma-Informed Community Development and resilience-building resources will be available.
Learn the basic indicators of adverse childhood experiences
Understand how race, culture and poverty impacts human development
Become familiar with techniques to self-regulate when stress and trauma happen
Build resolution skills that help reduce trauma and build resiliency within individuals and community
This educational event will offer CEUs through Virginia Tech for everyone registered. (Some restrictions apply.)
Beyond ACEs Summit: Thursday, August 8 and Friday, August 9
Registration Cost: $155 through July 10 and $175 afterwards
Register at: http://www.cpe.vt.edu/beyondaces/
LOCATION: Petersburg High School, 3101 Johnson Road, Petersburg, Virginia 23805
Hope Fest: August 9, 5-8 p.m. HOPE FEST is FREE!
The Beyond ACEs Summit and Trauma Responsive Initiative is a program of the Crater Health Department of the Virginia Department of Health, www.craterhd.net https://www.facebook.com/SouthsideTICN/