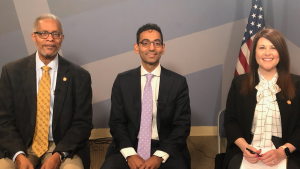 Coming soon to This Week in Richmond with David Bailey, featuring State Health Commissioner M. Norman Oliver, MD, MA; Chief Medical Officer Chethan Bachireddy, MD, DMAS; Gena Berger, Deputy Secretary of Health and Human Resources.
This episode will feature topics, including maternal health initiatives, Medicaid expansion, home visiting and doula budget proposals and the Governor's five-year plan to reduce racial disparities in maternal mortality. Dr. Norm Oliver also briefly addressed the state's response to COVID-19, as well as VDH preparedness and response activities.
This episode will air the week of March 1, and will available online at: https://vpm.org/watch/this-week-in-richmond.