Assessing our community's health is critical for understanding our community's strengths and opportunities for improvement. With an end goal of creating healthy,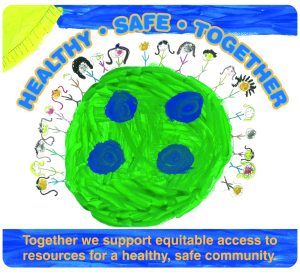 connected, vibrant, and well communities, health departments across Virginia are committed to engaging community stakeholders, key organizations, and citizens to come together, review health indicators, and determine priorities for focus and improvement.
Developed by the Centers for Disease Control and Prevention (CDC) and the National Association of City and County Health Officials (NACCHO), Mobilizing for Action through Planning and Partnerships (MAPP) is a strategic framework for organizations, coalitions, and community members to work together for improved health and well-being for all.
Since 2007, Planning District 10 (PD10) / the Blue Ridge Health District (BRHD) has completed three rounds of MAPP2Health community health assessment and improvement planning and published three MAPP2Health Reports in 2008, 2012, and 2016.
In the 2019 MAPP process, community partners and coalitions reviewed and discussed quantitative and qualitative data and community members provided feedback on strengths and areas for improvement. We focused on the priorities identified in the 2016 process through a health equity lens.  The health equity work we did is described in the 2019 MAPP Report.  Our four priorities remain the same:
Promote Healthy Eating and Active Living
Address Mental Health and Substance Use
Reduce Health Disparities and Improve Access to Care
Foster a Healthy and Connected Community for All Ages
What's New for the 2022 MAPP2Health Process?
Join us as we dive deeper into the four priorities further focusing on health equity in the 2022 MAPP process by looking at race and socioeconomic status as social determinants of health. Work together with area organizations, coalitions, and community members to improve opportunities and reduce the barriers to health equity. Our process objectives are to:
Launch new locality-specific Work Groups that convene subject matter experts across the four MAPP priorities to review current strategies, research evidence-based best practices, and recommend a variety of strategies to address each priority.
Focus on root causes of health inequities with facilitated discussions on the policies and structures that create health inequities.
Work with the UVA Equity Center to produce an Equity Profile for your community.  See Albemarle County Equity Profile.
Review community input. Hear about barriers to good health from those who experience those barriers.  Our qualitative research will include Photovoice projects and focus groups.
Develop a plan.  Discuss and select strategies to advance health equity, focusing on policies and practices related to the built environment and healthcare access.
Publish a 2022 MAPP2Health Report by September 1, 2022.
To get involved in ongoing MAPP2Health efforts, please contact project manager Jen Fleisher >>
Read the 2022 MAPP2Health Report here