Assessing our community's health is critical for understanding our community's strengths and opportunities for improvement. With an end goal of creating healthy,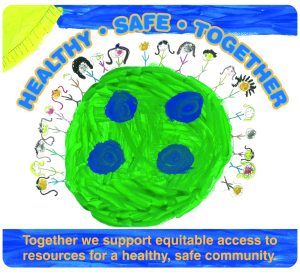 connected, vibrant, and well communities, health departments across Virginia are committed to engaging community stakeholders, key organizations, and citizens to come together, review health indicators, and determine priorities for focus and improvement.
Developed by the Centers for Disease Control and Prevention (CDC) and the National Association of City and County Health Officials (NACCHO), Mobilizing for Action through Planning and Partnerships (MAPP) is a strategic framework for organizations, coalitions, and community members to work together for improved health and well-being for all.
Since 2007, Planning District 10 (PD10) / the Thomas Jefferson Health District (TJHD) has completed three rounds of MAPP2Health community health assessment and improvement planning and published three MAPP2Health Reports in 2008, 2012, and 2016.
In October 2018, the MAPP Core Group—consisting of TJHD, Sentara Martha Jefferson Hospital, the University of Virginia's Department of Public Health Sciences, and the University of Virginia Health System—announced the launch of the fourth round of MAPP2Health for the district. Community members and community partners are invited to join the MAPP Core Group and MAPP partners across the district as we dive deeper into the four priorities identified during the 2016 MAPP process and focus on health equity.
The 2019 MAPP2Health process objectives are to:
Focus on health equity and host a health equity overview and discussion in each locality to kick off the 2019 MAPP process.
Launch a new Data and Evaluation Committee (ongoing) that convenes data partners to review current MAPP indicators, strengthen local data partnerships, and provide evaluation support and planning.
Launch a new Best Practices Work Group (specific to the 2019 process) that convenes subject matter experts across the four MAPP priorities to review current strategies, research evidence-based best practices, and recommend a variety of strategies to address each priority.
Share updated data and conduct Photovoice projects. After the initial health equity discussion, there will be a second meeting in each locality to review updated, interactive data and suggest a local group that experiences health inequities to participate in a Photovoice project. Photovoice uses photography to capture community voices and gather community input to identify cultural and community assets.
Review Photovoice results and plan for action. There will be a third meeting in each locality to share the Photovoice results and select updated strategies compiled by the Best Practices Work Group to address each priority.
Fund MAPP strategies by locality. There will be funding available for each locality to implement one or more of the selected strategies.
Publish a 2019 MAPP2Health Report by September 2019.
To get involved in ongoing MAPP2Health efforts, please contact Putnam Ivey de Cortez at 434-972-6241 or putnam.ivey@vdh.virginia.gov.