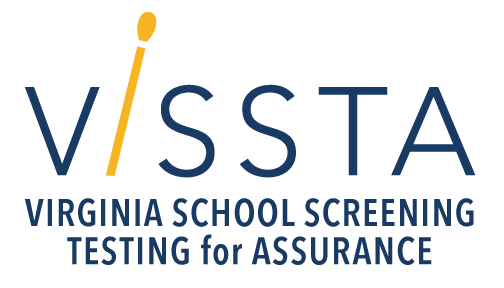 Protect Your Health
Virginia School Screening Testing for Assurance (ViSSTA)
The Virginia Department of Health (VDH) and Virginia Department of Education (VDOE) are partnering to launch a new COVID-19 testing program for the 2021 - 2022 school year, Virginia School Screening Testing for Assurance (ViSSTA).
ViSSTA will provide testing vendors, supplies, and staffing to support an end-to-end COVID-19 testing experience with the goal of maximizing resources available to schools to navigate full in-person instruction in the fall and minimizing added responsibilities to existing school staff.
ViSSTA Program Launches for 2021-2022 School Year
CDC and VDH strongly recommend COVID-19 testing in schools and COVID-19 testing remains an important mitigation strategy, intended to be combined or layered with other prevention strategies such as masking, vaccination, and physical distancing.  For more information on why testing in schools remains a critical prevention tool, refer to the Overview of ViSSTA Program and Importance of Testing in Schools (PDF) ( 2 pp, 176KB)document.
Vendor-conducted pooled PCR testing
At the core of ViSSTA will be vendor-conducted pooled PCR testing. Contractors will conduct pooled testing at participating schools at least weekly and provide end-to-end support (e.g., supplies, staff to conduct testing, PPE, biohazard waste removal, reporting tools). VDH also plans to provide support for conducting confirmatory testing in the event a pool returns a positive test result.
Under this model, schools' primary responsibilities are:
Identify groups for testing (e.g., all students, all staff, specific extracurricular programs)
Coordinate the collection of student/staff consent forms
Provide space and time for testing
Implement any containment/mitigation guidance
Comply with reporting requirements
Testing support for special events
Schools may also request testing support for special events (e.g., back to school/post-vacation, school dances, conferences); this testing support may employ vendor-conducted testing or more flexible methods, such as self-test point-of-care PCR tests or antigen tests.
Funds for Public Schools for Additional Staff
Public schools participating in ViSSTA will be eligible to receive funds from VDOE to hire any additional staff needed to support COVID-19 testing, which may include school-based nurses and administrative support staff.
Additional Funds for Testing Support
Additionally, schools may request funds for any technology, supply, or infrastructure needs that will support testing, such as tents to conduct outdoor testing or technology to facilitate reporting.
Optional Program
Schools/school divisions have the opportunity to opt-in to the ViSSTA program. VDH encourages school divisions to enroll in the ViSSTA Program, but it is not required. Divisions participating in the ViSSTA program are implementing different types of testing programs in their schools. If you have questions about specific local policies related to testing at your school, please direct those to your local school administrators.
All Testing is Voluntary
Testing will be voluntary for students and staff at participating schools. Only individuals who return completed consent forms may be tested.
Get Started
Program Contact Information
Intent to Participate
Enrollment is ongoing as resources allow. If you school has interest in the ViSSTA program please contact
Questions
Any school divisions/schools with questions may contact
Office Hours
The VDH K-12 Testing Office Hours are every Tuesday from 3:00 - 4:00pm beginning July 15th.
Office hours are open to representatives from all public and private schools, whether your school is currently participating in ViSSTA or interested in learning more. Those interested in attending office hours can access the meeting through the link sent through VCPE, VDOE, or the weekly VISSTA email. Please include your school affiliation when emailing to request the link.
ViSSTA Testing Toolkit
The ViSSTA Testing Toolkit is designed to provide schools with the materials necessary to implement ViSSTA while aligning with testing and containment best practices. We will continue to update this tab with resources for schools participating in the program.
VDH has developed a playbook to guide schools implementing the ViSSTA Program. The playbook includes information on roles and responsibilities, developing a testing plan, and conducting testing.
Playbook for K12 ViSSTA Program (PDF) (19 pp, 529 KB)
eMed BinaxNOW Kits for Diagnostic and Close Contact Testing
VDH has provided an initial supply of virtually-guided Abbott BinaxNOW At-Home antigen self-test kits through our vendor, eMed, to all school divisions who requested to receive test kits.  These at-home test kits are intended for diagnostic testing on K12 students, teachers, and staff who have signs/symptoms of COVID-19 or for testing of students, or K-12 teachers and staff who have been identified as close contacts to a case.  The kits may be distributed to members of the school community for use at home or can be self administered at school per school policy.  These at-home test kits complement other mitigation strategies in K-12 schools, including in-school pooled PCR screening testing (ViSSTA), mask policies, and case investigation/contact tracing. 
Following the initial supply of test kits, schools that are participating in the ViSSTA COVID-19 Screening Testing Program will be prioritized for future diagnostic test shipments. Schools that commit to participating in the ViSSTA COVID-19 screening testing program can continue to receive the virtually-guided Abbott BinaxNow at-home antigen self-test kits from eMed for diagnostic and close contact testing. For school divisions that choose not to participate in the screening program, VDH will not be able to guarantee continued supply of these products that are intended for diagnostic use.
At this time, these test kits are not intended to be used for school employee regular screening testing or to meet any school employer testing requirements that may exist. 
Refer to the document below for VDH's guidance on using eMed BinaxNOW kits in schools.
ViSSTA Program eMed Overview (PDF) (5 pp, 239 KB)
General information on conducting testing through eMed can be found on the eMed website . If you have received a kit from a Virginia school and are looking to begin a testing session, please go to the eMed Virginia landing page and select "Test for School."
eMed BinaxNOW Reporting Requirements for School Divisions and Schools
Test results will be obtained by the eMed Certified Guide at the end of each testing session and reported to public health electronically. Schools may also work with eMed to obtain access to a dashboard with results for their school community. Please contact testinginfo@vdh.virginia.gov with the subject line "eMed School Reporting Dashboard" by 12pm on Thursday, 10/7 to request a dashboard for your school.
School divisions and schools that receive eMed BinaxNOW kits from VDH are responsible for reporting on the distribution of test kits (not test results) to the VDH ViSSTA team weekly through a REDCap survey.  School divisions should report the number of test kits distributed to schools, the names of those schools, and the intended purpose of the distribution, and schools should report on the number of test kits distributed to individuals, the location the test was performed (performed in-school or sent with individual for out of school testing) and the purpose for each test. Please do not include any identifying information about the individuals tested. VDH will distribute the first survey by Friday, 10/1. Divisions/schools are responsible for reporting by Tuesday at 5pm. VDH is providing the below tracker for school divisions and schools to organize the information needed to complete the survey.
Ordering Additional eMed BinaxNOW Supplies
School divisions/schools that are participating in the ViSSTA Covid-19 Screening Testing Program will be prioritized for future diagnostic test shipments.  For school divisions that choose not to participate in the screening program, VDH will not be able to guarantee continued supply of these products that are intended for diagnostic use. 
School divisions/private schools may request additional supplies through the kit distribution reporting survey that is due every Tuesday at 5pm. VDH will review all orders submitted by this deadline and may reach out with questions to substantiate the request. Orders will ship weekly.
Containment (Case Investigation and Contact Tracing)
Guidance regarding isolation, quarantine,  and appropriate timeframes for testing can be found in this infographic (PDF) (3 pp, 572 KB) . Additional information on what to do if you are exposed to quarantine can be found here.
If you are not fully vaccinated or have not recently recovered from COVID-19, get tested immediately after a known exposure, and again 5 to 7 days after your exposure if your first test was negative.
If you are fully vaccinated and do not have symptoms, you should get tested 3 to 5 days after exposure and wear a mask in public indoor settings for 14 days or until you receive a negative test result.
Additional information and guidance about when to return to school or work can be found in the following documents on the K12 webpage:
This page will continue to be updated as more information becomes available.