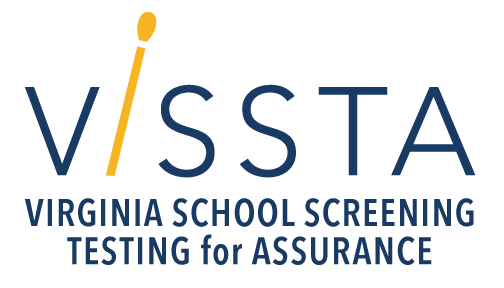 Protect Your Health
Virginia School Screening Testing for Assurance (ViSSTA)
The Virginia Department of Health (VDH) and Virginia Department of Education (VDOE) are partnering to offer the Virginia School Screening Testing for Assurance (ViSSTA) COVID-19 Testing program through July 2023. This program is funded through the CDC ELC Reopening Schools Award. COVID-19 testing remains an important prevention strategy, intended to be combined or layered with other strategies like vaccination.
Support for End-to-End COVID-19 PCR Testing
ViSSTA provides testing vendors, supplies, and staffing to support an end-to-end COVID-19 testing experience.
Optional Program
Schools/school divisions have the opportunity to opt-in to the ViSSTA program. It is not required.
All Testing is Voluntary
Testing will be voluntary for students and staff at participating schools. Only individuals who return completed consent forms may be tested.
Schools are responsible for:
Identifying groups for testing (e.g., all students, all staff, specific extracurricular programs)
Coordinating the collection of student/staff consent forms
Providing space and time for testing
Implementing any containment/mitigation guidance
Complying with reporting requirements
Testing support for special events
Schools may also request testing support for special events (e.g., back to school/post-vacation, school dances, conferences).
The ViSSTA Testing Toolkit is designed to provide schools with the materials necessary to implement ViSSTA.
Additional resources to support schools are below:
ViSSTA Program Getting Started Checklist
ViSSTA Program Getting Started Checklist is intended to help schools organize tasks in the days leading up to testing. This document can be customized to fit the needs of your division/school. Guidance for the tasks in the checklist can be found in the Playbook.
(DOCX)
School Intake Process and Timeline
This diagram provides the responsibilities during the enrollment process and the anticipated time for a school to participate in the ViSSTA testing program.
(PDF) (1 pp, 77 KB)
Additional COVID-19 Guidance for Students, Parents, and Schools
External link will open in a new window.  Click link to exit Virginia Department of Health Website.