Protect Your Health
Isolation & Quarantine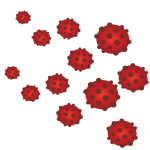 Next Steps
If you tested positive for COVID-19
VDH sends a text message to phone numbers associated with a positive reported COVID-19 test to help people act quickly and stay informed.
Step 1
Isolate and monitor your symptoms
Symptoms typically appear 2 to 10 days after exposure to the virus. Symptoms might develop sooner (2 to 4 days) with the Omicron variant compared to other variants. People with COVID-19 might not have any symptoms. If they do have symptoms, symptoms can range from mild to severe.
Isolate when you are sick or when you have a positive COVID-19 test, even if you don't have symptoms. Isolate means to stay home and away from others when you are infected.
If you test positive for COVID-19 and are at higher risk of getting very sick, contact your healthcare provider to see if you are eligible for treatment. Early treatment can prevent you from getting sicker.
If you are not symptomatic
Step 2
Notify Your Contacts
Call your contacts and tell them you have COVID-19.
Tell anyone you had close contact with that you are sick, so that they know to quarantine (stay home), get tested, and stay alert for symptoms.
COVIDWISE Verification Portal
The Virginia Department of Health (VDH) COVIDWISE Verification Portal allows individuals who have tested positive for COVID-19 to obtain a verification code for Virginia's Exposure Notification tools – COVIDWISE & COVIDWISE Express.
Guidance on when your self-isolation or quarantine may end
Quarantine & Isolation Calculator
Select the option below that describes your situation, enter the relevant date, and this calculator will give you guidance on when your isolation or quarantine at home may end.
This guidance is for members of the general public and may not apply to healthcare facilities, high-risk congregate settings, or other setting-specific groups. This guidance does not apply to students, teachers, or staff in a child care, K-12 school, or day camp setting.
External link will open in a new window.  Click link to exit Virginia Department of Health Website.