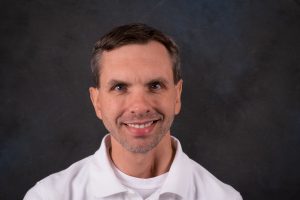 Tim Perkins, division director for Community Health and Technical Resources with the Virginia Department of Health, Office of Emergency Medical Services (OEMS) was recently honored with the prestigious "Community Star" award from the National Organization of State Offices of Rural Health (NOSORH).
Every year, the NOSORH leads National Rural Health Day, an annual celebration that recognizes those who serve the vital health needs of an estimated 57 million people living in rural America, and celebrates Community Star award winners across the nation.
The Community Star Recognition Program's nominees are selected by their state's coalition to recognize individuals and organizations that make a positive impact in rural communities. This year, nominations were received from 48 states, a record for this annual awards program.
In Virginia, Tim Perkins was selected as this year's Community Star award winner. As the Division Director for the OEMS' Community Health and Technical Resources Division, he is responsible for working with rural EMS agencies, rescue squads and Regional EMS Councils throughout the commonwealth to provide a range of education, resources and technical assistance. He advocates for various agencies at the state level and oversees multiple initiatives, including mobile integrated healthcare/community paramedicine, disease management and preventative health care services.
During Perkins' 14 years at the OEMS, there have been many changes in the provision of emergency care, which have put a strain on rural areas, including agencies that heavily rely on volunteers, an aging workforce, and recruitment and retention challenges. However, Perkins continues to be a leader in this field and has met those challenges by focusing his efforts on response and increased telehealth services in rural Virginia.
Perkins is an asset to Virginia's EMS System and his contributions to rural health and the provision of emergency care is commended. The OEMS is proud to congratulate and recognize Perkins for his outstanding achievements and commitment to protect the health of all people in the commonwealth.
For more information about the Community Star award, please visit: https://www.powerofrural.org/community-stars/. ​​On November 19, Tim Perkins will appear in the 2020 edition of the book of Community Stars, published on the official National Rural Health Day website, powerofrural.org.