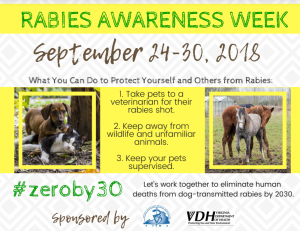 Rabies is a virus that is commonly found in Virginia's wildlife, especially in certain wild animals such as raccoons, skunks and foxes.  It's important to remember though that any mammal can get rabies and that rabies kills almost any mammal that gets sick from it.  That's why  it's important to take some basic precautions to help protect you and your pets from being infected.
One of the best ways you can protect yourself and your animals is having your veterinarian vaccinate your pets for rabies and keeping their vaccinations up to date.  Vaccinating domestic animals like dogs, cats and horses, creates a protective  barrier between wildlife and humans. If we protect them, we protect ourselves.
For more information about rabies visit https://www.vdh.virginia.gov/environmental-epidemiology/animal-contact-human-health/.  Another great source of information about rabies is your neighborhood veterinarian.  To find a veterinarian in your area, visit https://www.vvma.org/Find-a-Veterinarian.