Virginia has a variety of natural waters that are often used recreationally by Virginians and visitors. The Atlantic Ocean, Chesapeake Bay, rivers, lakes, and streams provide great venues for swimming, boating, and fishing activities. Although these waters provide great benefit to users, it is important to know that water quality in Virginia's natural waters is continuously changing and can be susceptible to pollution that can cause health risks to people. VDH, other state agencies, and organizations often monitor the quality of Virginia's natural waters. However, water users should always assume a level of risk when using natural waters.
VDH monitors beach water quality at 46 public beaches in Virginia on the Chesapeake Bay and Atlantic Ocean during the swimming season (May-September). Water samples are collected weekly and analyzed by laboratories for fecal indicator bacteria.  If bacteria levels exceed safe levels, a swimming advisory is issued to inform beachgoers that swimming is not recommended.
Fecal indicator bacteria serve as an indicator for fecal contamination in brackish and salt waters. These organisms are not harmful themselves, but indicate that other potentially harmful organisms may be present.  High levels of fecal indicator bacteria indicate an increased health risk to recreational water users.
For information on swimming advisories at Virginia beaches, please visit the VDH Beach Monitoring Site.
VDH monitors water for harmful algae in coastal marine and inland fresh waters by working closely with other state agencies and universities in Virginia to prevent illness that can result. . Algae are naturally-occurring organisms that can multiply rapidly when environmental conditions are favorable and produce what is called an algal bloom.
Most algae do not harm people, wildlife, or the environment.  However, some types of algae can be dangerous and cause illness in people and pets.  People can experience illness from harmful algae by eating contaminated shellfish, swallowing effected water, skin contact with effected water, and breathing in aerosolized water.
Algal blooms often result in a color change in the water, and can be any color. Most algal blooms form a scum on the surface of the water that is red, brown, or green.
If you see an algal bloom on the water, please report it to the VDH harmful algal bloom hotline at 888-238-6154.
For more information on harmful algae, please visit the VDH Harmful Algal Blooms Site.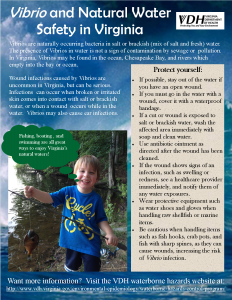 Vibrios are naturally occurring bacteria in salt or brackish (mix of salt and fresh) water.  The presence of Vibrios in water is not a sign of contamination by sewage or pollution.  In Virginia, Vibrios may be found in the ocean, Chesapeake Bay, and rivers which empty into the bay or ocean.
Wound infections caused by Vibrios are uncommon in Virginia, but can be serious. Infections  can occur when broken or irritated skin comes into contact with salt or brackish water, or when a wound  occurs while in the water.  Vibrios may also cause ear infections
Be cautious when handling items such as fish hooks, crab pots, and fish with sharp spines, as they can cause wounds, increasing the risk of Vibrio infection
Prevent illness and injury when swimming in natural waters by following these steps:
Avoid swimming in natural waters for a few days after a heavy rain event.
Avoid swallowing water when swimming.
Avoid getting water shot up your nose when swimming, especially in warm shallow water.
Avoid swimming or wading in with open wounds or cuts.
Look for posted signs near the swimming area.
Don't swim in areas where there are dead fish present.
Don't swim if you are ill.
Shower with soap and clean water after swimming.
Avoid swimming in muddy water of lakes, ponds, and rivers.
Avoid swimming in unfamiliar ponds, streams, creeks, ditches, and canals.
Be aware of local weather conditions prior to recreational activities and watch for dangerous waves and signs of rip currents.
For more information, check out the Safely Enjoy Natural Waters printable brochure for tips and advice on staying healthy while enjoying the wonderful natural resources Virginia has to offer.
Click the links below to learn more about water health and safety: