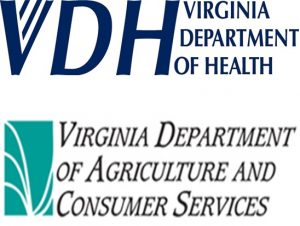 The Virginia Department of Health (VDH) Office of Environmental Health Services (OEHS) and the Virginia Department of Agriculture & Consumer Services (VDACS) work together to maintain the highest level of public health protection in food operations to keep citizens of the Commonwealth safe from foodborne illness. Code of Virginia  §3.2-5100 establishes VDACS's authority and responsibility for inspecting all establishments which manufacture, sell, expose, or offer food and drink products for sale. Code of Virginia §§35.1-1 and 35.1-5 give VDH responsibility for inspecting restaurants, including any place where food is served to the public, whether on or off premises, and any place where food is prepared.
VDH and VDACS frequently work together not only to administer regulatory programs that keep food safe but also to coordinate activities such as offering marketing, educational, and resource materials/programs; organizing trainings and conferences for agency staff; and collaborating on Virginia's Rapid Response Team to address foodborne illness outbreaks.
Memorandums of Understanding
In areas where the inspection authority of VDH and VDACS overlap, Memorandums of Understanding (MOUs) delineate the responsibilities of each agency and eliminate, to the greatest extent possible, duplicate inspections among establishments, including:
Restaurants
Retail Food Stores (grocery stores, convenience stores, gas stations, farmers' markets, etc.)
Processing & distribution facilities for the consumption of milk, milk products, imitation milk, fruit juices, fruit beverages, tea and bottled water, and frozen desserts
Processing & distribution of frozen desserts at retail establishments
Temporary Food Establishments
Farmers Markets
Breweries, Microbreweries, and Distilleries
Wineries, Meaderies, and Cideries
NOTE: Cottage food manufacturers and home-based kitchen processors fall under the jurisdiction of the Virginia Department of Agriculture and Consumer Services. If you would like to prepare, package, and sell food products made in your home or have questions regarding the "cottage food laws," please see the VDACS website. Catering operations are not permitted from a home-based kitchen.
Refer to the full MOUs below for more information on the inspection responsibilities of each agency as they relate to food service operations in different types of food service establishments.
Memorandums of Understanding (MOUs) between VDH and VDACS include:
Concerned about foodborne illness or conditions related to a food establishment?
To report concerns or file a complaint, visit: