VA-SORH Photo Contest
The Virginia State Office of Rural Health (VA-SORH) Photo Contest is designed to showcase the beauty of rural Virginia. Each of Virginia's rural communities is unique with its own personality and beautiful scenery. Submit a photo that represents what you love most about rural Virginia to the 2023 VA-SORH Photo Contest!
Photographers of all experience levels are encouraged to participate. You may submit as many photos as you'd like.
The deadline to submit your photos is Friday, October 20th.
Winners of the photo contest will be featured in the 2024 VA-SORH Digital Calendar Series and will be announced on November 16th, National Rural Health Day!
Know anyone who might want to participate? Share this informational flier with them!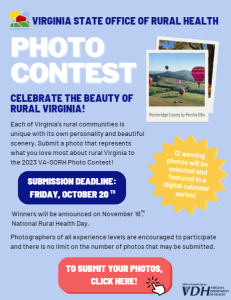 Click the image above to download a copy of the flier.