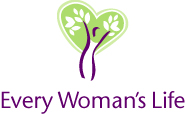 Breast and Cervical Cancer Early Detection Program – Every Woman's Life
The Every Woman's Life Program (EWL) provides breast and cervical cancer screenings for women with limited access to screening exams.
To be eligible, women must
be a Virginia resident between the ages of 50-64
meet federal income guidelines
be uninsured or underinsured
A limited number of screenings can be also provided to women age 40-49.
Services provided by the program include a clinical breast exam, mammogram, pelvic exam and Pap test.  If a woman enrolled in EWL is diagnosed with breast or cervical cancer she may be eligible for Medicaid to pay for treatment.
Women age 50-64 will be assessed for risk of colorectal cancer.  Women who meet screening criteria will receive testing, and will be referred for additional testing and treatment, if necessary.
For additional information, please contact 276-781-7450:
Sherry Jones, MS, BSN, RN                                                                                                                                                               Program Coordinator/Case Manager
Crissy Milhorne, RN                                                                                                                                                                             Case Manager
Vickie Sage, CHW                                                                                                                                                                                 Community Outreach