November 13, 2018
For More Information Contact
Kathryn W. Goodman, 434-270-4802
Thomas Jefferson Health District, Public Information Officer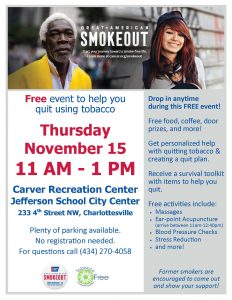 (Charlottesville, Va.) — On Thursday, November 15, the Tobacco Free Community Coalition (TFCC) is celebrating the Great American Smokeout (GASO) by hosting a free lunch event from 11 a.m. to 1:00 p.m. at Carver Recreation Center to help smokers quit and save money. At each of the events, attendees will experience and learn about different strategies for quitting smoking, receive a  survival toolkit," and get personalized help with creating a quit plan. Free food, door prizes, and giveaways will also be available. No registration is needed and people can drop in any time during the event.
Carver Recreation Center, Jefferson School City Center
233 4th St. NW, Charlottesville
11:00 a.m. to 1:00 p.m.
The event will include free:
Door Prizes and Giveaways
Food and Coffee
Personalized Help Creating a Quit Plan
"Survival Toolkits" for Quitting
Chair Massages
Acupuncture (ear-points only – people must arrive between 11am-12:40pm for acupuncture)
Self-Care Strategies and Breathing Meditations
Nutrition and Exercise Activities
Blood Pressure Screenings
This GASO event is free and open to the public, including former smokers and people showing support.
"I didn't realize how much smoking controlled my life, and now that I've quit, I feel healthier than ever," said Neely Dahl, Tobacco Treatment Specialist at the University of Virginia Cancer Center. "As a former smoker, I can relate to people who are trying to quit, and in my current job I have the opportunity to assist others on their quit journey to live a tobacco free life. Quitting smoking is hard, but I know anyone can do it!"
Tobacco use remains the single largest preventable cause of disease and death in the United States yet about 42 million Americans still smoke. According to the Centers for Disease Control and Prevention, smoking-related illnesses in the U.S. cost more than $300 billion each year. For more information about the GASO event and local tobacco cessation services, call 434-270-4058.
For free counseling and support to quit, people can call Quit Now Virginia at 1-800-QUIT-NOW.