What is Population Health?
Many believe that what makes a person healthy or not depends largely on their genetics and modern medicine. This is NOT the case. The distribution of health and disease is not random, but depends on where you live, work, and play.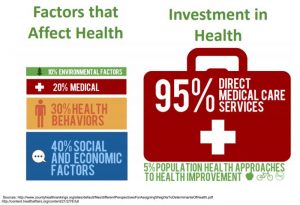 Population health is an approach that focuses on the interrelated and complex factors that influence the health of a population over the course of a lifetime. It includes physical, social, behavioral, cultural, environmental, and political factors. These are often referred to as social determinants of health. These factors can either protect our health or contribute to poor health outcomes.
---
Overview of the Prince William Health District
Check out the infographic for an overview of our community.
---
Virginia's Plan for Well-Being
Health begins where Virginians live, work, and play. Virginia's Plan for Well-Being lays out the foundation for giving everyone a chance to live a healthy life. The plan highlights specific goals and strategies on which communities can focus so the state can make measurable health improvements by 2020. Every Virginian deserves the opportunity to be healthy, and you, too, can help make that possible. Join us in this effort to assure well-being for all Virginians.
Watch the Virginia's Plan for Well-Being video
Learn more at https://virginiawellbeing.com/
---
Community Healthcare Coalition of Greater Prince William
The purpose of the Community Healthcare Coalition of Greater Prince William (CHCGPW) is to bring together a multiagency and multidisciplinary group of entities and individuals to develop a sustainable dashboard of community health indicators (CHI), identify and prioritize community health issues, conduct a community health assessment and plan, and implement and evaluate a community health improvement process. The Coalition is also responsible for identifying ways that limited, applicable resources can be used more efficiently and effectively. The overall goal of the CHCGPW is to collectively improve the health of residents of the Greater Prince William Area (GPWA) and jurisdictions served by the participating entities.
---
Community Health Assessment (CHA)
The CHCGPW developed the 2019 Greater Prince William Area Community Health Assessment, with the goal of collectively improving the health of the residents of the jurisdictions we serve. Data was used to determine the most pressing public health issues facing our community, and will provide the foundation for the development of the Community Health Improvement Plan. We hope that this document will help the community identify key public health issues and that together we can work toward becoming a community of healthy people.
View the most recent report: Greater Prince William Community Health Assessment 2019
---
Community Health Improvement Plan (CHIP)
The CHCGPW will develop a Community Health Improvement Plan (CHIP) focused on the top community identified priority areas to improve the health and well-being for all in the Greater Prince William Area. Stay connected and join the coalition's journey as we work together to create an environment for all to have the opportunity to be both physically and mentally healthy.
Community Health Improvement Plan 2020-2024 coming soon! 
Past reports:
Community Health Improvement Plan 2016-2020
Community Health Improvement Plan 2014-2019
---
Check out Community Health Data!
This dashboard is a web-based resource of community health data. We invite partners, stakeholders, and the entire community to use this site as a tool for community assessments, strategic planning, developing best practices for improvement, collaboration, and advocacy.
VDH Data Portal
The VDH Data Portal was developed to provide a convenient access point for health-related data for Virginia. This portal is a comprehensive source for community health assessment, public, and population health data. Each portal page provides interactive data at the most granular level available.
If you have any questions or data requests, contact population.health@vdh.virginia.gov
The Virginia Health Opportunity Index (HOI) was created by the Virginia Department of Health's Office of Health Equity. It examines how where you live, work and play influences the opportunity to live long, healthy lives. View the data to see which factors are most prevalent to you through the three dashboards:
Legislative Districts Dashboard
Other Sources of Data
County Health Rankings : Prince William County  • Manassas City • Manassas Park City
Healthiest Communities Rankings : Prince William County • Manassas City
VA Behavioral Risk Factor Surveillance Survey (BRFSS)
Healthy People 2020 Disparities Data
---
Other Reports
The Prince William Health District welcomes the opportunity for input from local and state partners as appropriate.  We will incorporate this feedback into the annual revisions of the PWHD Strategic Plan.  FY 2017-2020 Prince William Health District Strategic Plan