What is "CHA/CHIP"?
A Community Health Assessment (CHA) is a systematic examination of the health status indicators for a given population that is used to identify key problems and assets within a community. Completing a CHA has many benefits, as it can help inform community-decision making, prioritize health problems, and assist in the development of Community Health Improvement Plans (CHIPs).
A CHIP builds upon the priorities identified in the CHA to develop a plan to improve population health outcomes and work to eliminate inequities. It is an action plan consisting of goals and strategies to address the identified problems/issues. The CHIP includes indicators to help track progress.
How do we do a CHA/CHIP?
The National Association for City and County Health Officials (NACCHO) developed the Mobilizing for Action through Planning and Partnerships (MAPP) framework as a guide for communities undergoing the CHA/CHIP process. MAPP provides a community-wide strategic planning process for improving the health of the community. It also provides a method to help communities prioritize public health issues, identify resources for addressing them, and take action.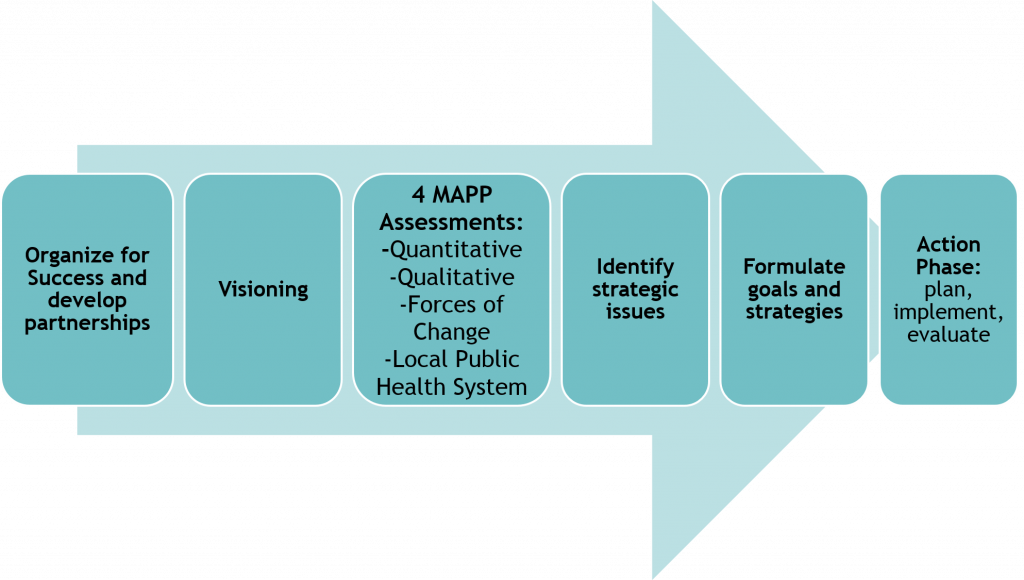 More information about MAPP is available through NACCHO.
When will the CHA/CHIP process take place?
RAHD's second CHA/CHIP is taking place in Caroline County, beginning in January 2020. The assessment and planning process estimated to take about a year.
The entire CHA/CHIP process, including the action phase in which the CHIP is carried out and implemented, takes place on a 3-5 year cycle. RAHD's first CHA/CHIP was completed in the City of Fredericksburg in 2017, and future CHA/CHIPs are planned to take place in King George, Spotsylvania, and Stafford counties after 2020.
Who will be involved in the process? What are the roles?
CHA/CHIP is meant to be community-driven, with neither the process nor the action plan relying solely on the health department. The RAHD will serve as a facilitator and will guide the group through the MAPP process. Throughout the process, we will work to engage community members and partners to reflect on the overall health and wellbeing of the community and to create a plan to address prioritized issues. We hope to build a diverse, representative Steering Team to help oversee the initiative, and there are numerous opportunities for community engagement. These include:
Attending our community kick-off meeting on January 29th
Serving on a sub-committee to help us gather information for the assessments
Provide information during the Community Themes and Strengths Assessment to help us better understand the community's health needs and assets
Contribute resources to create a more robust CHIP, addressing the prioritized issue areas
Stay informed! Contact Allison Balmes-John at allison.balmes@vdh.virginia.gov to be added to our mailing list and receive updates on the current CHA/CHIP
What does the CHA expect to find? What will the CHIP likely address?
There is no way to know for certain, as the results are guided by community input and data. However, the CHA typically reports on demographic data, prevalence rates of various health outcomes, measures of social and economic status, and identified community strengths, assets, and resources. Based on the results of the CHA, the steering team and greater community will select the top health issues they wish to address. This varies community by community, but may include topics such as mental health, nutrition and physical activity, transportation, or education.
In the 2017 CHA in Fredericksburg, food insecurity arose as the top priority for the City. The Eat Green Fredericksburg initiative was developed to address this issue. More information on the Fredericksburg CHA is available here.
Other questions?
Contact Allison Balmes, Population Health Coordinator, at allison.balmes@vdh.virginia.gov or Brooke Rossheim, District Health Director, at brooke.rossheim@vdh.virginia.gov.