WHO WE ARE: 
Health, Equity, Diversity, and Inclusion (HEDI) is an initiative started by The Virginia Beach Department of Health to address health equity and is funded by a CDC grant*
*CDC-RFA-OT21-2103. National Initiative to Address COVID-19 Health Disparities Among Populations at High-Risk and Underserved, Including Racial and Ethnic Minority Populations and Rural Communities
WHAT WE DO:
Strive to support our underserved communities and help them gain access to resources utilizing the Unite Virginia resource platform. 

Partner

organizations that serve the community in the Hampton Roads area

to support community initiatives and resources. 

Provide Education and outreach around Public Health resources. 

Provide COVID-19 Education, Testing and Vaccination to our Community-Based Organizations, Faith-Based Organizations, Universities/Colleges, Homeless, and Under-Served communities.
Happening Now!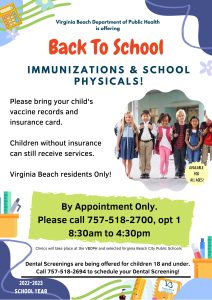 Please read and follow these step by step instructions for your child's back to school physical and immunizations.        →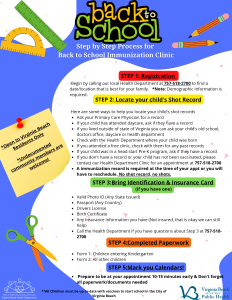 UPCOMING EVENTS:
Links to sign up for other Covid-19 vaccine appointments: