---
The map is updated regularly during the months of May – October. The HAB Task Force responds to complaints regarding blooms. The map does not reflect all possible blooms in the state, only those reported and under investigation.
You may expand the map to make it larger using the four corner symbol in the upper right hand corner of the map header bar. If you embed the map on your site, you must also add the legend on this page.
Once you expand the map, you may click on recent monitoring points, and click the magnifying glass in the search bar to search for landmarks and addresses to see if there are harmful algae blooms nearby.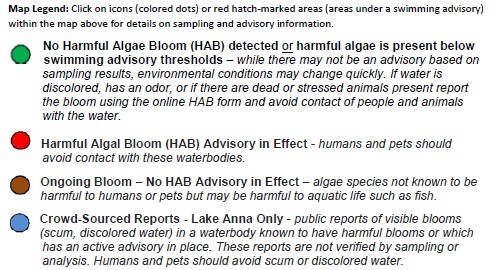 ---
How do I report an Algal Bloom or Fish Kill?
If you are concerned that you have been exposed to a harmful algal bloom, please contact your health care provider. Telling your your provider about contact with water may help them diagnose the illness properly.
Questions about human or animal health effects and algal blooms, call:
The Virginia Department of Health HAB Hotline: (888) 238-6154
To report dead fish in the water, call:
The Virginia Emergency Operations Center (VEOC):       1-800-468-8892
For information on federal policy and guidance, including advisory thresholds for algal toxins in drinking water, please visit the EPA CyanoHAB website and the CDC HAB-Associated Illness website.