The Virginia Department of Health (VDH) urges beachgoers and those using and maintaining swimming pools, spas, and water parks to focus on simple steps that can be taken to help ensure a healthy and safe swimming experience for everyone. Information available through the links below describes the role of swimmers, aquatics and beach staff, residential pool owners, and public health officials in preventing drowning, swimming-related injuries, and waterborne illnesses.
Healthy and Safe Swimming Week 2022
The week before Memorial Day, May 23–29, 2022, marks the seventeenth annual Healthy and Safe Swimming Week. Nationwide, communities will be collaborating and engaging in discussion about how to maximize the health benefits of water-based physical activity while minimizing the risk of recreational water–associated illness and injury.
Working together, we can help to prevent people from getting sick from waterborne illness.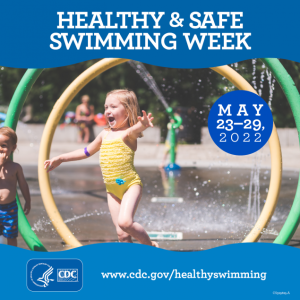 Stay Safe while frolicking in Splash Pads!
To prevent illness and injury while enjoying Splash Parks, follow these steps:
Avoid swallowing splash pad water, it is disinfected but still contains germs!
Stay out of splash pads if you have had vomiting or diarrhea.
Jets can rinse germs found in poop off butts. Swallowing the water with those germs can make you sick. Chlorine doesn't kill germs instantly.
Shower with soap and water BEFORE and AFTER enjoying a splash pad.
Provide continuous and close supervision to recreators - no running to avoid slips and falls!
Swallowing the water with those germs can make you sick. Chlorine doesn't kill germs instantly.
Did you know that it can take chlorine minutes—and sometimes even days—to kill germs in splash pad water? Swallowing water with germs can cause diarrhea or vomiting.
Check diapers and take bathroom breaks every hour at splash pads. When pee and poop mix with the water, they use up chlorine needed to kill germs.