The Virginia Arthritis Program uses the Centers for Disease Control and Prevention (CDC) Behavioral Risk Factor Surveillance System (BRFSS) for state-specific arthritis prevalence estimates.  Virginia has been collecting information on arthritis through BRFSS since 1996.  BRFSS is a state-based, random-digit-dialed telephone survey of the noninstitutionalized, civilian U.S. population aged 18 years or older.  The survey is administered in all 50 states, the District of Columbia, and three territories.
The CDC Morbidity and Mortality Weekly Report surveillance summary on arthritis prevalence can help improve the understanding of arthritis differences and the impact at the state and local levels.  This release is the first comprehensive report of state-level estimates for adults with arthritis using 2015 BRFSS data.  The findings highlight large geographic variability in prevalence, health-related characteristics, and management of arthritis.
Highlights from 2018 Virginia BRFSS Data Regarding Arthritis Include:
The overall prevalence of arthritis in Virginia adults aged 18 years or older was 26.0%.
Arthritis often co-occurs with other chronic diseases, resulting in further activity limitation, disability, and perhaps early mortality. The 2018 BRFSS data indicate that prevalence of arthritis among adults with obesity was 36.3%, while it was 51.7% among adults with diabetes, and 53.2% among adults with heart disease, increasing the risk for disability.
Arthritis is a leading cause of disability among adults and affects Virginians' health-related quality of life. In 2018, among adults aged 18 years or older with arthritis, 31.6% reported being physically inactive. In 2017, 42.0% of adults aged 18-64 with arthritis reported work limitations due to arthritis. Similarly, in 2015, 44.8% of adults aged 18 years or older with arthritis reported limited capacity to engage in activities of daily living.
As seen below, Southwest Virginia had the highest burden of arthritis (35.5%) among all health planning regions in Virginia in 2018.
The prevalence of arthritis among adults in Virginia's localities is estimated from BRFSS data every 3 years. Small area (i.e., city/county) estimates of 2017 BRFSS data indicate that one-fifth of localities in Virginia had an arthritis prevalence ranging from 43.8% to 77.0% among adults. Several counties/cities in Southwest Virginia were in this group.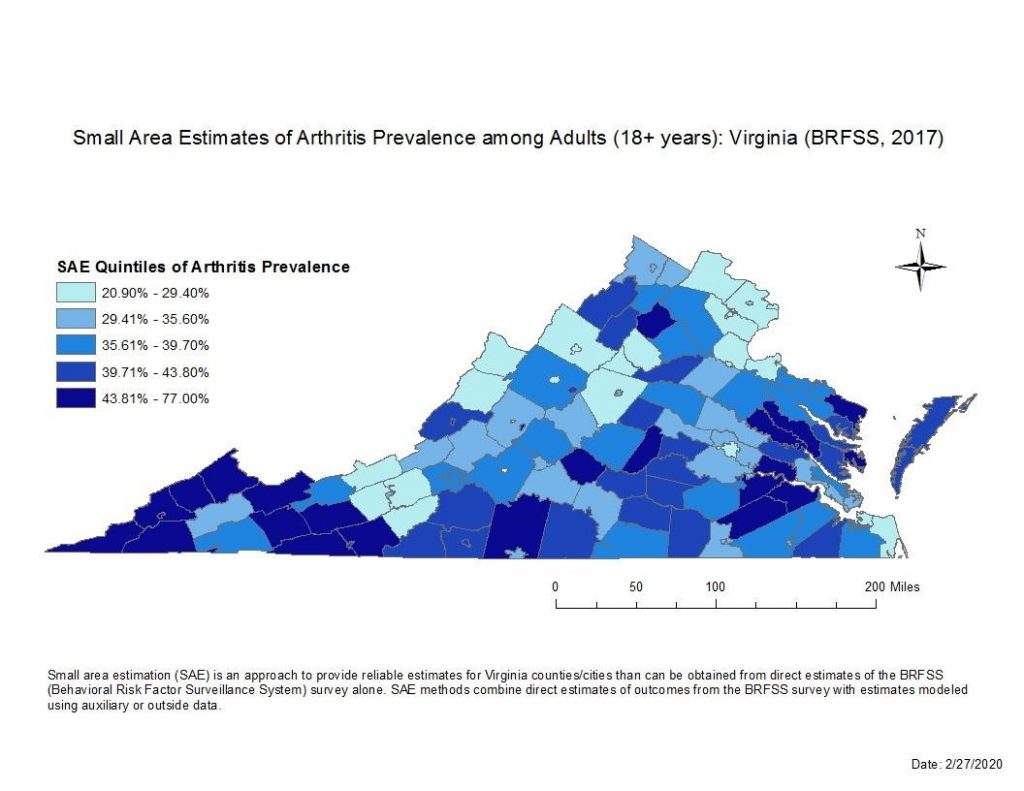 Other Resources
 If you have any questions or data requests please contact: population.health@vdh.virginia.gov.