Respiratory Illness Update
October 21, 2022 
Dear Colleague,
Public health surveillance indicates Virginia may experience a challenging flu and respiratory disease season this fall and winter. Following are some related data along with steps you can take to help prevent and reduce illness among your patients. 
Respiratory Syncytial Virus
Emergency department (ED) and urgent care (UC) visits with diagnosed Respiratory Syncytial Virus (RSV) have quadrupled and have been rapidly increasing in Virginia's syndromic surveillance system since early September.  
Figure 1: ED and urgent care visits that include RSV in the discharge diagnosis. Syndromic surveillance data limitations should be considered when interpreting these data.
Recommended Actions: Review diagnosis and treatment information for RSV. Palivizumab is a monoclonal antibody recommended by the American Academy of Pediatrics (AAP) for certain high-risk individuals. Ensure you are familiar with AAP's RSV prophylaxis guidance. 
Influenza
ED and UC visits for influenza-like illness (ILI) are increasing. During the week ending October 15, 2022 the percent of ILI visits was higher than the same week during each of the past five years. This may signal an early start to the flu season and VDH will closely monitor outbreak and laboratory data to better understand this. Among 0-4 year olds, 14.1% of all ED and UC visits during October 9-15 were for ILI.
Virginia Immunization Information System data indicate that flu vaccination uptake between July 1 and October 16 of this year is lower, especially in pediatric populations, than the same time periods during the previous three years.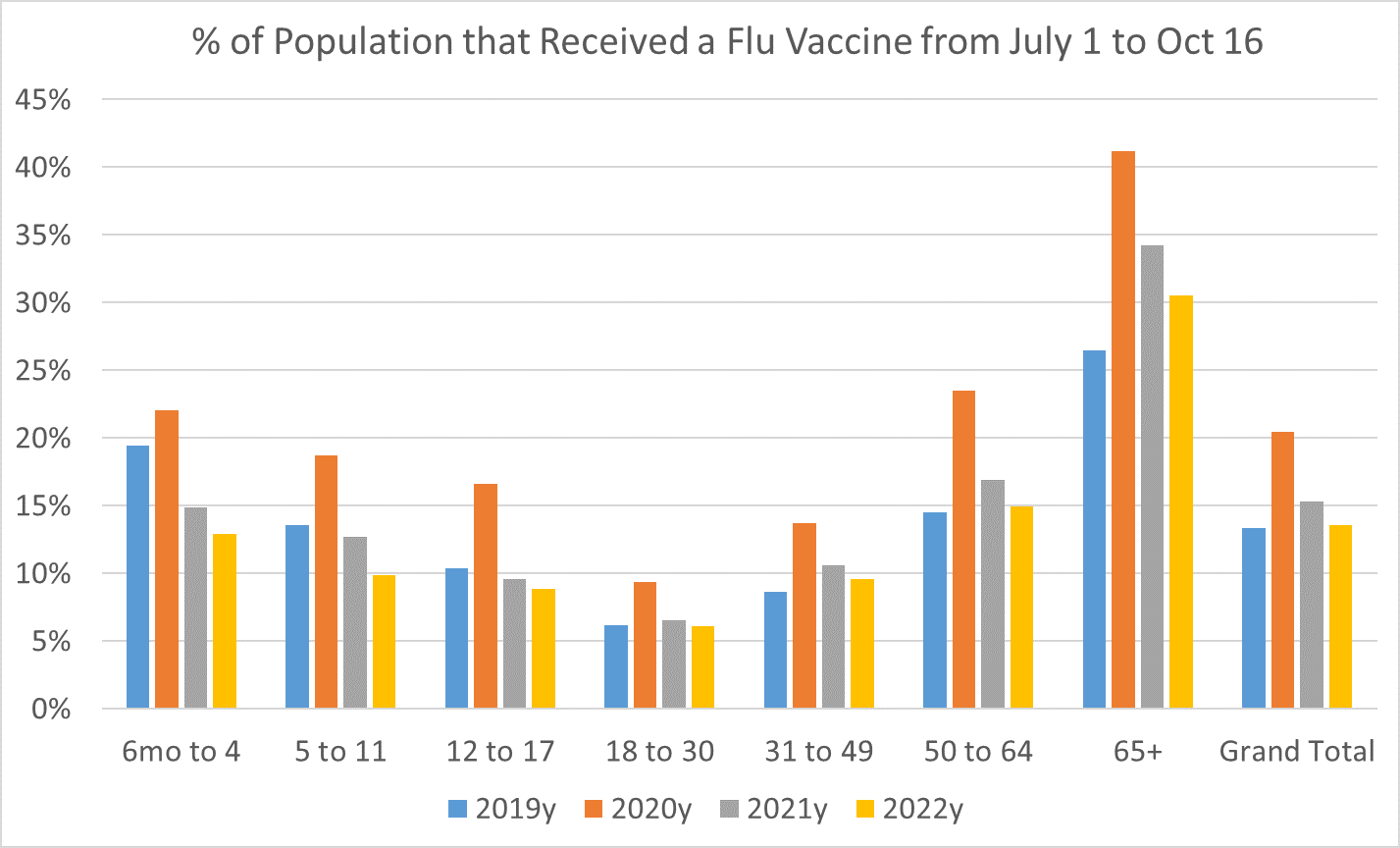 According to the CDC, racial and ethnic disparities in influenza-associated hospitalizations were consistently observed among Black, AI/AN, and Hispanic adults compared with White adults in the U.S., with hospitalization rates an average of 1.2 to 1.8 times those in White adults during the past 13 seasons. The reasons for these disparities are likely multifactorial, including lower influenza vaccination coverage.
Recommended Actions: 
Recommend flu vaccine to your patients.  Your strong flu vaccine recommendation is one of the most important factors in patients accepting the vaccine. 

For the 2022-2023 season, there are three flu vaccines that are preferentially recommended for people 65 years and older.  

Additional

recommendations from ACIP

for the 2022-2023 flu season were published August 26, 2022.  

Offer flu and COVID-19 vaccines at the same visit, if eligible and the timing coincides.  Getting both vaccines at the same visit increases the chance that a person will be up-to-date with their vaccinations.

Remind patients to stay home when they are sick and to practice good hand hygiene and respiratory etiquette.  

Monitor flu activity on the

VDH website

.  
Thank you for providing care to your patients and for your partnership with public health.
Sincerely,
Colin M. Greene, MD, MPH
Colonel, US Army, retired
State Health Commissioner
Additional Resources:
National Respiratory and Enteric Virus Surveillance System