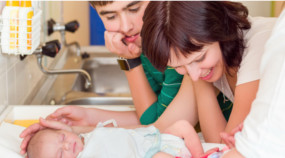 The Virginia Congenital Anomalies Reporting and Education System
(VaCARES) is a registry of children under age two with birth defects.
Goals of the program:
Collect data to evaluate possible causes of birth defects.
Improve the diagnosis and treatment of birth defects.
Establish a mechanism for informing families of children with birth defects and their physicians about available health resources.
The development of VaCARES was mandated in 1985 and amended in 1986 and 2006 in the
Code of Virginia, § 32.1-69.1.
According to this mandate, hospitals are required to report cases of birth defects to VaCARES. The relevant information can be reported and reviewed without the prior written consent of the patient or family. The mandate also allows for review and evaluation of the system and activities.