May 7, 2019
For More Information Contact
Kathryn Goodman, Thomas Jefferson Health District, Public Information Officer 434-270-4802
Phil Giaramita, Albemarle County Public Schools, 434-972-4049
Krissy Vick, Charlottesville City Schools, 434-245-2922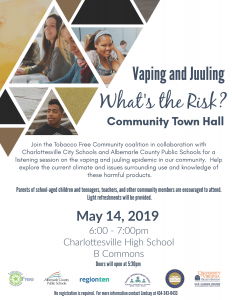 (Charlottesville, Va.) – In partnership with Charlottesville City Schools and Albemarle County Public Schools, the Tobacco Free Community Coalition (TFCC) will hold a 
Community Town Hall about youth electronic cigarette (e-cigarette) use on Tuesday, May 14, 2019 from 6:00 to 7:00 p.m. at Charlottesville High School, B Commons. 
Doors will open at 5:30 p.m. and light refreshments will be provided. Parents of school-aged children and teenagers, teachers, and other community members are encouraged to attend.
The event will feature an open discussion and listening session on the vaping and juuling epidemic in our community. A new state law that takes effect July 1 prohibits the sale of tobacco products, including e-cigarettes, to anyone under the age of 21. It also prohibits possession of these products by anyone under the age of 21 and all tobacco products on school properties. Attendees will have the opportunity to talk with experts about the latest harmful products on the market, their use in our community and schools, and preventive measures to safeguard the health of local children and youth.
The Community Town Hall is in response to the U.S. Food and Drug Administration (FDA) declaring youth e-cigarette use to be an epidemic. Locally, schools are reporting increased use of e-cigarettes among students. There are many kinds of e-cigarettes – including "vapes" and "JUULs" – all of which are easily concealed because they do not emit smoke or an odor.
The event agenda and speakers will include:
Welcome – Dr. Nicholas King, Director of Student Services, Albemarle County Public Schools
Latest and Emerging Tobacco Products – Connie Clark, MTTS, Certified Tobacco Treatment Specialist, UVA Cancer Center
Tobacco Use in Our Community – Ali Capriles, Public Health Associate, Thomas Jefferson Health District
Facilitated Community Session – Kathryn Goodman, MPH, CHES, Communications & Public Relations Lead, Thomas Jefferson Health District
Closing and Next Steps – Lindsay Hauser, MS, MTTS, Outreach and Engagement Manager, UVA Cancer Center