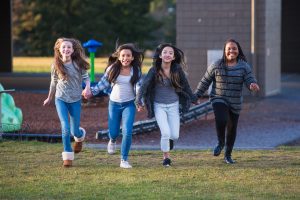 Over 13 percent of Virginians age 10-17-years old are overweight or obese. Childhood obesity affects Black and Latino youth at even higher rates. Obesity can affect a child's physical, social, and emotional health.
Children and teens spend most of their time in schools, making it a good place to learn healthy habits. Schools can play a big role in encouraging students to eat healthy and stay active. They can also provide resources to help prevent daily challenges from chronic health conditions like asthma and diabetes.
The Virginia Department of Health supports school wellness by:
Whole School, Whole Community, and Whole Child: A framework for addressing health in school that brings together and calls for greater alignment in public health, education, and school health sectors.
Comprehensive School Physical Activity Programming (CSPAP): CDC and Shape America worked together to provide a step by step guide for schools to support a variety of physical activities. This gives students more chances to be physically active each day.
Local School Wellness Policy: A guide for school systems for providing better nutrition and physical activity. All LEAs operating the National School Lunch Program and School Breakfast Program must have a local school wellness policy.
Current and past activities funded by VDH:
 

School Wellness Policy Training: VDH offers training on the creation and evaluation of school wellness policies.
Chronic Disease Management in Schools: VDH works with the Virginia Department of Education to provide training to school nurses. The training highlights new trends in chronic disease management in schools. The training focuses on diabetes, asthma, food allergies, obesity, and other health issues.
Virginia's Chief Movement Officers (CMOs): Since 2017, VDH has partnered with the Virginia Department of Education and Focused Fitness to increase physical activity in schools. Health and physical education teachers, the CMOs cadre, are recruited to develop physical activities to support learning in the classroom. They work with classroom teachers to integrate physical activity into classroom academic curricula. These types of activities have shown strong results in improving student concentration and behavior. It has also lead to better academic achievement. Follow the CMO cadre on twitter at: #CMOcadre, #Activeclassrooms, @healthykidsva
Quotes from the CMO Cadre Mentors
Creating opportunity for students to participate in meaningful movement throughout the academic day is beneficial for both students and educators.  I have seen the work of the CMO help teachers improve their classroom management and content delivery and contribute to the social-emotional wellness of students.  Being a member of the CMO has also impacted my role as a health and physical educator as it has allowed me to highlight the content and expertise of HPE teachers around the state and advocate for our profession.
Lei Dunn
Newton Elementary School, Health and Physical Education Teacher
The Chief Movement Officer Cadre work within our Virginia Schools adds a level of expertise to Classroom Physical Activity. Our Cadre Members are professionals who love what they do, are great at sharing quality information with classroom teachers and are truly making a difference. It is a pleasure and an honor to be a part of this program that is changing classroom physical activity within the state of Virginia.
Amy Riggio
Goshen Post Elementary School, Health and Physical Education Teacher
It means the world to me to work with such amazing people being a part of the CMO Cadre Community.  We have the opportunity to help students continue being physically active as much as possible while academically enhancing their abilities inside and outside of the classroom.  We all live with the drive to inspire!
Jamie Wright
Franklin County High School, Adapted Health and Physical Education Teacher