Women, Infants, and Children (WIC) Program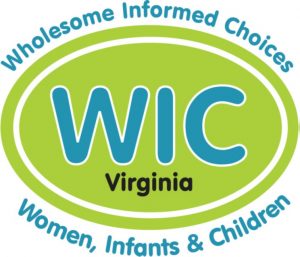 WIC helps improve the health of nutritionally at-risk low-income women, infants, and children through supplemental nutrition counseling. WIC services are provided at no cost through USDA funds. WIC helps pregnant women; moms up to 6 months after the baby's birth, if not breastfeeding; moms up to 1 year after baby is born, if fully breastfeed only; babies up to age 1; and children from age 1 up to their 5th birthday.
WIC provides:
screening and referrals to other health, welfare and social services agencies,
nutrition education, breastfeeding promotion and support,  and
supplemental nutritious foods
WIC benefits currently are loaded to an EBT card called eWIC.
To learn if you are eligible, visit myvawic.org
How to apply - Appointments are required. You will need to bring some information to the WIC appointment.
Proof of income (pay stubs, Medicaid card, Food Stamp letter, etc.)
Proof of identity (driver's license, birth certificate or Social Security card)
Proof that you live in Virginia (utility bill or other item with your name and current street address)
To make an appointment -
In Franklin County, call (540) 484-0292 and choose Ext. 217 or 218.
In Martinsville/Henry County, call (276) 638-2311 and choose Ext. 137 or 142
In Patrick County, call (276) 693-2070 and choose Ext. 2066 WEDNESDAYS ONLY

Spend Smart. Eat Smart.
Spend Smart. Eat Smart. offers tips, recipes and a number of tools to help people eat healthy while sticking to a tight grocery budget. On this site, you can:
Use an interactive Grocery Budget Calculator to get an estimate based on USDA's Low-Cost Food Plan. (Don't want to leave this site? Scroll down to use the calculator on this page!)
Learn about unit pricing (and download a free app) to help determine the food form and packaging that provides best value.
View videos on a number of topics, such as saving money with unit pricing, planning a menu, getting the best deal on fruits and vegetables and more.
Find aisle by aisle information, videos and handouts for food groups that covers shopping, selecting, and preparing tips; storing and discarding recommendations; how much is needed in a day; and more.
Download a number of resources, including grocery lists in English or Spanish, a food expenses tracker, two-page guides for fresh fruit and vegetable that provides tips on selection, storage and preparation, produce available during various months, and other health and nutrition-focused information.
Want more information about what's in season? Check out the Seasonal Produce Guide.
Looking for additional dynamic nutrition education tools? Check out the Interactive Nutrition Fact Label.
Need to inspire your participants and help them get the most of their food packages? Check out the recipes and recipe resources featured on WIC Works.
Other Services
Newborn Screening - Performed for newborns not tested in hospital or needing pre-testing.
Immunizations - Immunizations for infants and children are available. You may contact your local health department for service times and appointments. You may contact your local health department for service times and appointments.
Car Safety Seat Program - Car safety seat education and free car seats for eligible low-income families. Attend a 2-hour class with video on installation of car seats and car seat safety. English and Spanish eligibility information available. You may contact your local health department for service times and appointments.
FAMIS – A special Medicaid for children who do not qualify for regular Medicaid. Must meet certain eligibility requirements. A representative with the Martinsville and Henry County Coalition for Health and Wellness is located at the Henry-Martinsville Health Department every Tuesday (afternoon only).