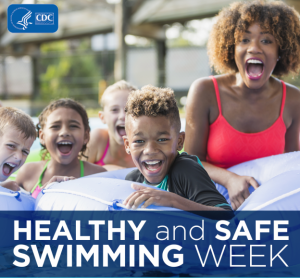 This time of year marks the unofficial start of summer with the opening of pools and water parks. As temperatures rise, so do visits to Virginia's beaches, lakes and rivers. Healthy and Safe Swimming Week, May 24–30, focuses on the steps everyone can take to have a healthy and safe swimming experience. Nationwide, communities will be collaborating and engaging in discussion about how to maximize the health benefits of water-based physical activity while minimizing the risk of recreational water–associated illness and injury.
Working together, we can help to prevent people from getting sick from waterborne illness.
Prevent illness and injury when swimming in pools by following these steps:
Avoid swallowing water when swimming, pool water is disinfected but still contains germs!
Don't swim if you are ill.
Shower with soap and water BEFORE and AFTER swimming.
Provide continuous and close supervision to swimmers.
Know how to recognize swimmers in distress and how to perform CPR.
Preventing access to the water when the pool is not in use.
Secure pool chemicals from children and pets; and
Make sure to wear safety equipment—such as masks, gloves, and goggles—when handling pool chemicals
Prevent recreational water illnesses by following these simple steps:
Don't swim when you have diarrhea. Just one diarrheal incident can release enough germs into the water that swallowing a mouthful can cause diarrhea lasting 2-3 weeks.
Don't swallow pool water, and don't drink water directly from streams, lakes, or other bodies of water.
Practice good hygiene. Shower with soap before swimming and wash your hands with soap after using the toilet or changing diapers. Germs on your body end up in the water.
Avoid exposing open wounds or cuts to salt or brackish (somewhat salty) water. If exposed, wash the affected area right away with soap and clean water.
If you become ill, visit your primary healthcare provider.
Report harmful algal blooms or large groups of dead fish to the HAB Hotline at:
It is also important to remember that drowning is the leading cause of injury and death for children ages 1-4 years. To keep swimmers safe in the water:
Make sure everyone knows how to swim.
Use life jackets.
Provide continuous attentive supervision near swimmers.
Know CPR. Find a class near you.
Use sunscreen. Apply sunscreen before applying insect repellent.
Install and maintain barriers like 4-sided fencing and weight-bearing pool covers.
Use locks or alarms for pool access points.
To learn more about staying safe in pools and natural waters, visit swimhealthyva.com and www.cdc.gov/healthywater/swimming/safe-swimming-week.