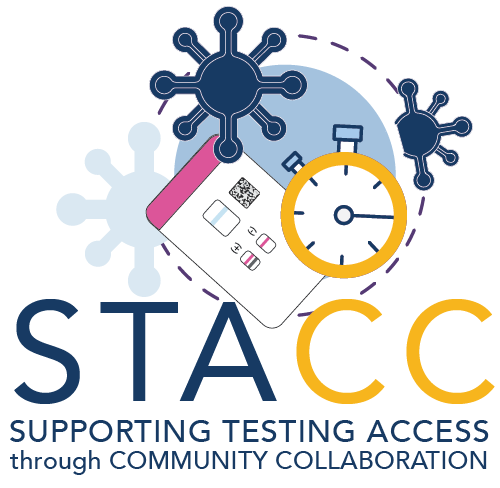 Protect Your Health
Supporting Testing Access through Community Collaboration
VDH-STACC is a new program launched by VDH in November 2021. Through this program, VDH distributes COVID-19 at-home test kits to participating libraries. Community members can pick up FREE test kits from participating libraries (library cards aren't required) and take the kits home to self-test for COVID-19.
Free at-home COVID-19 testing kits available at participating Virginia Libraries:
Currently, 60 library systems are participating in the free eMed program.
The kits available through this program are eMed-proctored BinaxNOW COVID-19 Antigen Card Home Tests. Access eMed's website for more information about this at-home test.
Helpful tips:
If you are symptomatic, or if you have been told to quarantine because you are a close contact to someone who has COVID-19, send someone else to get the test kit for you
Wear a mask to pick up the test kit
Have a plan to use the test kits within 2 weeks
You will need a valid photo ID, including a driver's license, passport, passport card, birth certificate, state-issued identification card, military ID card, or official school ID to take the test (though no ID is needed to pick up a test kit).
You will need an internet connection and an internet-enabled device, such as a computer, mobile phone, or tablet, with a webcam or front-facing camera, microphone, and speaker.
Information about eMed-proctored BinaxNOW COVID-19 Antigen Card Home Tests
BinaxNOW expiration dates
While test kits are labeled with expiration dates, please note that the FDA has extended the expiration of these kits. Use the following link to check your kit's LOT number and verify an updated expiration date: BinaxNOW expiration dates  (PDF) (10 pp, 326 KB).
Have a question?
Program Contact Information
Additional Comments or Concerns
If you have any additional comments or concerns about the local library facilities, please direct your call to your county administrators. 
VDH-STACC Roles
Library Partnership Roles Chart of VDH, libraries, community members, and eMed in the STACC program.
External link will open in new window.  Click link to exit Virginia Department of Health Website.