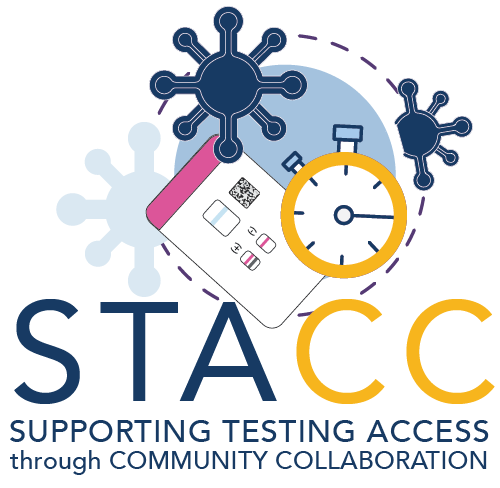 Protect Your Health
Supporting Testing Access through Community Collaboration
VDH-STACC is an OPT-IN initiative with community libraries launched in November 2021. The goal is to increase access to testing resources for communities at risk for COVID-19 throughout the Commonwealth utilizing a trusted resource community partner. Through this program, VDH distributes Flowflex COVID-19 Antigen Home Test to selected libraries. Community members can pick up FREE test kits from participating libraries (library cards aren't required) and take the kits home to self-test for COVID-19.
Helpful tips:
If you are symptomatic, or if you have been told to quarantine because you are a close contact to someone who has COVID-19, please send someone else to get the test kit for you
Wear a mask to pick up the test kit
Have a plan to use the test kits within 2 weeks
Free at-home COVID-19 testing kits available at participating Virginia Libraries:
Currently, 36 libraries/library systems are included in the program. Participating libraries include
Information about Flowflex COVID-19 At-Home Tests
This program currently uses Flowflex COVID-19 Antigen Home Tests , which are authorized for use for individuals 2 years of age or older.  Access Flowflex's website for more information about this at-home test and videos to assist with testing.
On November 18, 2022, the FDA granted a 19 to 21 month shelf life extension for upcoming expiring Flowflex COVID-19 Antigen Home Tests. To see if your test kit was affected please cross reference the LOT NUMBER with the extended expiration date using the document linked here. 
Have a question?
Program Contact Information
Local Library Location
Please use this tool to find your local library's contact information
Covid-19 Related Questions
VDH's Call Center 1-877-ASK-VDH3 (1-877-275-8343)
Monday-Friday 8:00 a.m. -  5:00 p.m.
Additional Comments or Concerns
If you have any additional comments or concerns about the local library facilities, please direct your call to your county administrators. 
VDH Statement for ACON COVID-19 tests
According to the U.S. Food and Drug Administration , certain ACON COVID-19 tests, named Flowflex SARS-CoV-2 Antigen Rapid Test (Self-Testing) should not be used because of the risk of false results when using the test. The unauthorized tests are packaged in a blue box and have not been cleared or approved for distribution or use in the U.S. These tests are not being distributed by the Virginia Department of Health.
The Flowflex COVID-19 Antigen Home Test, used by the Virginia Department of Health (VDH) has been authorized, approved and cleared by the FDA for distribution and use. The authorized Flowflex COVID-19 Antigen Home Tests is packaged in a white box.
VDH-STACC Roles
Library Partnership Roles Chart of VDH, libraries, community members, and eMed in the STACC program.
External link will open in a new window.  Click link to exit Virginia Department of Health Website.