The Crater Health District has adopted the ACEs Connection's Building Community Resilience 2.0 Model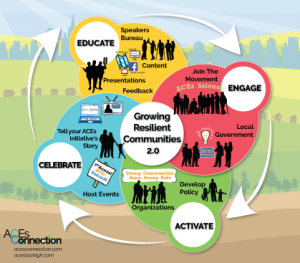 What are Adverse Childhood Experiences (ACEs)?
ACEs are stressful or traumatic events, including abuse and neglect. They may also include household dysfunction such as witnessing domestic violence or growing up with family members who have substance use disorders. ACEs can affect the development and prevalence of a wide range of health problems throughout a person's lifespan.
What is resilience?
An ability to recover from or adjust easily to misfortune or change. Resilience has been shown to buffer the impact of suffering or stress. Resilience isn't just a gift of nature or an exercise of will; resilience grows through positive experiences, supportive environments and the caring intervention of others.
http://communityresiliencecookbook.org/whats-cooking-here-and-why/
What is a trauma-informed system?
"A trauma informed [human service] system is one in which all parties involved recognize and respond to the varying impact of traumatic stress on children, adults, their caregivers, providers of service and others who have contact with the system. Programs and organizations within the system infuse this knowledge awareness and skills into their organizational cultures, policies and practices. They act in collaboration, using the best available science to facilitate and support resiliency and recovery."
(adapted from Hendricks, Conradi, & Wilson, 2011, p.189)
Crater Health District's efforts to promote a trauma-informed system: