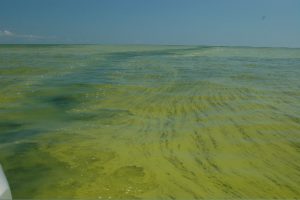 An example of a large blue-green algae bloom. (Photo: Ohio DNR)
Algal blooms have posed operational problems for water treatment filters and may result in taste and odor complaints from utility customers. While most species of algae are not harmful, some have the capacity to produce toxins that affect animal and human health. These harmful algae blooms (HABs) can potentially enter drinking water treatment facilities.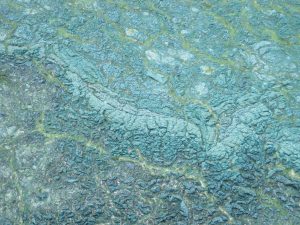 The Virginia Department of Health (including the Office of Drinking Water, Division of Environmental Epidemiology, and Division of Shellfish Sanitation) works in cooperation with the Virginia Department of Environmental Quality, Old Dominion University, and the Virginia Institute of Marine Science at the College of William and Mary, to monitor Virginia's waters for harmful algae and to prevent potential illness. Formed in 1997, this group is collectively known as the Virginia HAB Task Force.
The Virginia HABs Response Plan for Drinking Water Sources can be found in Chapter 4 of the Source Water Protection Manual.
Waterworks Operator Resources
AWWA CyanoTOX Spreadsheet - This spreadsheet provides operators with tools to evaluate chemical oxidation of cyanotoxins using common drinking water oxidants, and to evaluate adsorption of cyanotoxins using powdered activated carbon.
 To report a potentially harmful algae bloom, call:    
The Virginia Department of Health
HAB Hotline: (888) 238-6154