The goal of the Virginia Early Hearing Detection and Intervention program is to identify congenital hearing loss in children before three months of age and to assure enrollment in intervention services before six months of age.
The Virginia Early Hearing Detection and Intervention Program provides information and referral to families regarding newborn hearing screening, follow-up testing, and early intervention services.
What to do if your child does not pass the hearing screening?- See Video
Does your child need a follow-up appointment? Review Next Steps to take for your child's Follow-Up.
Has your child been diagnosed with a hearing loss? Review resources available for you and your child.
View other Parent Perspectives.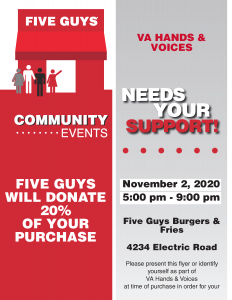 Virginia Hands & Voices
supports families across the Commonwealth with children who are deaf and hard-of-hearing without bias around communication modes or methodology.
Virginia Hands & Voices is partnering up with Five Guys Burgers & Fries for their third fundraising evening in Roanoke, located at 4234 Electric Road. The fundraiser will be held on Monday, November 2 from 5-9 pm. Five Guys will be donating 20% of all sales during the designated time to Virginia Hands & Voices, however, you must bring
this flyer
with you or mention our organization when placing your order.
It's important to note you do not need to have a deaf/hard of hearing child to participate in this event.