Has your child been diagnosed with hearing loss?
Talk with your child's Primary Care Provider:

Discuss referrals to see an Ear Nose Throat Specialist (ENT), an Ophthalmologist (eye doctor) and for genetic counseling.

Review available resources and support networks:

See resources below by region for additional information.
Resources for Children with Hearing Loss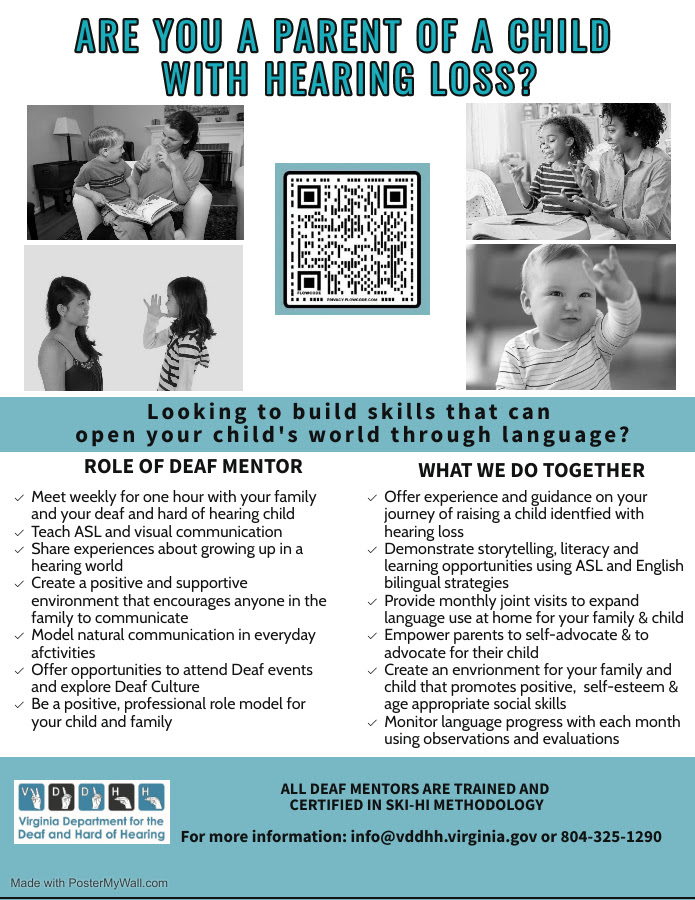 Virginia Deaf Mentor Program
Now seeking families who desire a mentor relationship with a Deaf adult. Deaf Mentors are located throughout the Commonwealth and are trained and certified in SKI HI methodology. The Deaf Mentors offer their experience and guidance on raising a child with hearing loss, empower parents to advocate for themselves and their child, teach ASL and visual communication to parents, children and interested family members and help create a positive and supportive home environment.
The frequency of the meetings with a Deaf Mentor is dependent on individual family needs. Deaf Mentor services are no cost to a family. Meetings can be held in a family's home, at a park or other community based location, or remotely over Zoom.
For more information email the Virginia Department for the Deaf and Hard of Hearing info@vd.virginia.gov or call (804) 325-1290.
Communication Methods for Children who are Deaf or Hard of Hearing:
American Sign Language, spoken English, and open captions through:
(804) 864-7717 or mailto:
Questions, comments, concerns? Contact us at VA_EHDIi@vdh.virginia.govQuestions, comments, concerns?