Nonverbal Play - Birds of a Feather
You are invited to Virginia Hands & Voices and Arts on the Horizon
an ASL interpreted performance of the nonverbal play
Birds of a Feather
This unique production will take place outdoors on Saturday, June 18 at 11:30am at Leonadus K. Plenty Amphitheater at Lee District Park in Alexandria.
As a way to show our appreciation for your continued support, we are pleased to offer all current 2022 Virginia Hands & Voices members FREE* tickets to this special performance.
Members will receive a promo code in an email.
Not a member yet? Become a member today by visiting: Become-a-Member and we will email you the promo code for this event.
*Non-members may purchase tickets for the group discounted rate of $6/each + $2 service fee ($10 value).
Please Note: We have extended the registration date! All tickets must be reserved or purchased by June 10th. We have also secured a CLT for this event at the request of a few families.  Northern Virginia area families of deaf and hard-of-hearing children, professionals in the field, and DHH adults to see
For more information about the play, and to register visit https://vahvbirdsofafeather.eventbrite.com
Student Connection
Student Connection
An opportunity for ALL students who are Deaf and Hard of Hearing to connect with other Deaf and Hard of Hearing students in Virginia via Zoom. 
Breakout rooms for children in grades K-12 will be used to ensure age-appropriate activities for your child, including offering resources to students in grades 9-12 to help prepare them for moving from school to post-school life.
Sponsored by the Technical Assistance Center for Students who are Deaf and Hard of Hearing (TAC-DHH)
iPads to Improve Language and Communication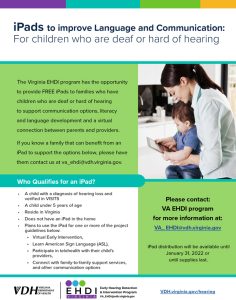 For children who are deaf or hard of hearing
The Virginia EHDI program has the opportunity
to provide FREE iPads to families who have
children who are deaf or hard of hearing
to support communication options, literacy
and language development and a virtual
connection between parents and providers.
If you know a family that can benefit from an
iPad to support the options below, please have
them contact us at va_ehdi@vdh.virginia.gov.
iPads to improve Language and Communication:
For children who are deaf or hard of hearing