Latino Community Leadership Forum
Wednesday, March 1 at 9:00 pm
Hosted by the H&V Headquarters Advisory Council for Latino Family Support.
Note: Session will be conducted in Spanish spoken Language. It will be available as a recording with English captions at a later date. Audience: Spanish Speaking Parents of DHH children and Bilingual (Spanish/English) Parent Leaders who provide support to Spanish Speaking Parents of DHH children. This is an amazing opportunity for monolingual or primary Spanish speaking families to develop a social connection with our Latino Council parent leaders.
Share this information with Spanish speaking families you know or work with. We would love to hear from you! We are seeking future Parent Leaders from a Spanish speaking family with a deaf or hard of hearing child to learn about the Hands & Voices mission and how we can better support our Latino families here in Virginia.
iPads to Improve Language and Communication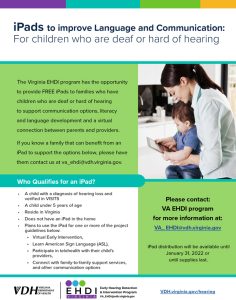 For children who are deaf or hard of hearing
The Virginia EHDI program has the opportunity
to provide FREE iPads to families who have
children who are deaf or hard of hearing
to support communication options, literacy
and language development and a virtual
connection between parents and providers.
If you know a family that can benefit from an
iPad to support the options below, please have
them contact us at va_ehdi@vdh.virginia.gov.
iPads to improve Language and Communication:
For children who are deaf or hard of hearing
Student Connection
Student Connection
An opportunity for ALL students who are Deaf and Hard of Hearing to connect with other Deaf and Hard of Hearing students in Virginia via Zoom. 
Breakout rooms for children in grades K-12 will be used to ensure age-appropriate activities for your child, including offering resources to students in grades 9-12 to help prepare them for moving from school to post-school life.
Sponsored by the Technical Assistance Center for Students who are Deaf and Hard of Hearing (TAC-DHH)
Deaf Mentor Coordinator
It is with great excitement we share with you the progress that has been made with regards to establishing a Deaf Mentor Program here in Virginia. The Deaf Mentor team has been working hard behind the scenes over the past few months and we are getting closer to being able to provide Deaf Mentor services to families throughout the Commonwealth!
We are currently seeking a Deaf Mentor Coordinator to create and launch this wonderful program.
The Deaf Mentor Coordinator will be able to be unbiased, open-minded and an advocate for family decisions in regards to communication, education or use of technology. The Coordinator will maintain ongoing contact with participating families and Deaf Mentors as appropriate to coordinate, oversee and monitor Deaf Mentor Services and related activities. This program will be housed at the Virginia Department for the Deaf and Hard of Hearing (VDDHH). Recruitment for 15 Deaf Mentors will happen later this year with the SKI HI training taking place in February 2023.
We expect to begin supporting families next Spring!
Please share this information with anyone you know who may be interested in a part-time job working from home and traveling throughout Virginia. Prospective applicants need to apply through the state website as it is a part-time position under VDDHH. All questions regarding the Coordinator position must be directed through Human Resources.