From cow to cup, ever wonder how your milk is kept safe?
The Virginia Department of Health (VDH) oversees dairy producers and milk plants to ensure a safe, nutritious product is distributed to the people of the Commonwealth. Virginia dairy farmers produce approximately 240 million gallons of milk each year from over 700 dairy farms. This milk in its raw form has the potential to include dangerous germs, pathogens, bacteria or contaminates that could harm a consumer. Once milk is processed (pasteurized) and quality checked for safety, it travels to your cup.
The Virginia Department of Health and the Virginia Department of Agriculture and Consumer Services (VDACS) work to ensure the safe handling of dairy products from the farm to your table. As regulatory agencies, VDH and VDACS enforce the Virginia Grade A Milk Regulations, which are based on the U. S. Food and Drug Administration's Grade A Pasteurized Milk Ordinance. These regulations pertain to the production, transportation, processing, handling, sampling, examination, labeling, and sale of Grade A milk products. They help to ensure all milk comes from healthy cows living in sanitary conditions and that milk is properly pasteurized and processed. VDACS and VDH have separate, yet overlapping, roles in regulating dairy producers and milk plants in order to keep the consumer safe.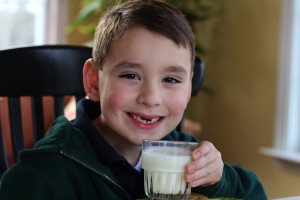 Read more about milk safety below:
VDACS's Role
The VDACS role in milk safety starts at the farm. Every dairy farm in Virginia receives multiple comprehensive inspections each year from certified Food Safety Specialists. Some things VDACS looks for while on the dairy farm include:
Proper handling and sanitary conditions during the milking of cows
Hygienic cleaning of milk utensils and storage containers
Sampling criteria are met for milk
Proper transportation of milk to pasteurization plants
The VDACS role in milk safety also comes in the form of ensuring the finalized milk products continue to be held at proper temperatures once they are in retail stores. VDACS Food Safety Specialists conduct routine inspections of retail grocery and convenience stores where milk is sold directly to the consumer. Visit VDAC's website to learn more about their regulatory dairy program and to better understand their role in keeping milk safe.
VDH's Role
VDH Milk Safety Program
If you can't tell, there's a step left out here: what actually makes the milk safe! The milk is transported from the farm in large trucks to the milk plant in order to complete a very important safety processing step. At the plant, a few things happen:
Refrigeration of the milk to control pathogen growth
Pasteurization of your milk to kill all harmful microbes (this one is VERY important!)
Bottling for contamination control and selling purposes
The Virginia Department of Health's milk safety program includes two Milk Safety Program Managers at the state office who manage a team of Milk Safety Specialists throughout the 35 districts in Virginia. These milk safety inspectors go through a rigorous training program to become standardized as certified Milk Specialists. The Milk Specialists become just that: specialists on all things dairy related from the cow to cup. In addition to all of their general dairy knowledge, the VDH Milk Specialists must maintain their Sample Collector Certification and Plant Inspector Certification. There are over twenty (that number tends to fluctuate) Grade A Milk processing plants in Virginia that are permitted by VDH and inspected by local health district Milk Specialists. Some of the important roles VDH Milk Specialists have in dairy safety include:
Issuance of plant permits and continual regulatory oversight
Inspections for plant sanitation
Testing of pasteurization equipment
Taking samples of milk and providing evaluation of results on:

Bacterial counts (the bad stuff that can make you sick & spoils your milk)
Coliform availability (the stuff that shows feces in the milk)
Phosphotase (indicator of adequate pasteurization)
Drugs (indicates traces that were given to the animal)

Evaluating milk plant water supplies
Completing plan reviews to protect against unsafe processes
Conducting complaint investigations
Inspecting milk container plants
Reviewing milk product labels for ingredient listings and for expiration date accuracy
Completing vitamin analysis on dairy products
All of the work completed by the Virginia Department of Health's Milk Safety Program helps to ensure the public's safety by hopefully preventing dairy related illnesses in the Commonwealth.