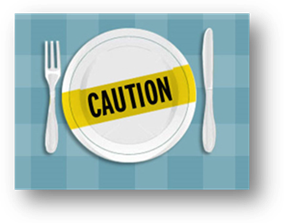 During the 2015 General Assembly, House Bill HB 2090 was passed and signed by Governor McAuliffe. This bill mandates training standards that address food allergy awareness. Training guidance for restaurants means a better sense of ease for Virginia consumers who have food allergies. On this site, you can find resources for both the consumer as well as for restaurant operators.
The Virginia Department of Health regulates food service establishments and, in agreement with the 2017 FDA Food Code, will require under the 2021 Virginia Food Regulations, 12 VAC 5-421-55, Certified Food Protection Manager, that:
A. At least one employee with supervisory and management responsibility and the authority to direct and control food preparation and service shall be a certified food protection manager, demonstrating proficiency of required knowledge and information through passing a test that is part of an accredited program.
B. This section does not apply to food establishments that serve only non-time/temperature control for safety food and food establishments that store and prepare food only to the extent that they reheat or cold hold commercially processed, fully cooked time/temperature control for safety foods. Food establishments exempt from the certified food protection manager requirement may not cool time/temperature control for safety foods.
C. The person in charge shall be a certified food protection manager who has shown proficiency of required information through passing a test that is part of an accredited program. For purposes of enforcing this subsection, this requirement take effect on June 24, 2023.
These courses cover basic food safety principles, critical control points for managing a restaurant, and food allergy training.  Additionally, under 12 VAC 5-421-70, the Person-in-Charge must ensure that employees are properly trained in food safety, including food allergy awareness, as it relates to their assigned duties.
Food Allergies in the United States
It is estimated that 15 million people have food allergies in the United States. That's a lot of hungry people that want to eat out at Virginia restaurants! There are many foods that can cause an allergic reaction in a person, but the following eight foods account for 90% of all food-related allergic reactions:
Fish
Crustacean Shellfish (including shrimp, crab and lobster)
Milk
Peanuts
Soy
Wheat
Eggs
Tree Nuts (almonds, pecans and walnuts)
What is a food allergy?
A food allergy, much like any other allergy is caused when a person's body reacts to a substance like it is harmful. The body produces antibodies to fight against the allergen. The reaction to this process can vary based on the quantity of allergen consumed and the amount of previous exposures. An allergic reaction to a food allergen can vary from uncomfortable symptoms to a life-threatening experience. Some common symptoms include:
Hives (swollen, itchy skin irritation)
Nausea or vomiting
Stomach pain
Itchy throat or mouth
Swelling of lips, tongue or throat
Sneeze or cough
Trouble swallowing
Shortness of breath
Chest pain
Loss of consciousness
Cyanotic (bluish colored skin)
Anaphylaxis – means a severe, life threatening reaction to an allergen that is a combination of one or more symptoms above and poses an immediate danger to the life of the person. It is often associated with a respiratory or cardiac emergency where rapid recognition and reaction is critical.
Are you allergic or intolerant?
It is important to note that there is a distinct difference between food allergies and food intolerances . Food intolerances such as lactose intolerance of dairy products can cause symptoms of gastrointestinal issues and discomfort. While it is important for people with food intolerances to avoid the consumption of such products, the likelihood of serious, life-threatening reactions is low. You should visit a medical professional if you think you are intolerant to a certain food item. Restaurant employees need to be aware of both food allergies and food intolerances to ensure a happy, healthy customer.
Many Virginia food establishments are designing menus for diners with food allergies or intolerances. Though these are not all of the sites available, you may search for restaurants in your neighborhood and check their availability of allergy-friendly dining options using the links below.
Food Allergy Checklists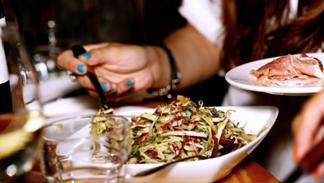 Dining out should be enjoyable for everyone!
Having a fun meal out with family and friends is a luxury that some Virginians don't get to experience. People with food allergies are often worried about consuming food in restaurants even if their server claims it is free of the allergen. It is vital that Virginia food establishments take precautions to avoid contaminating foods served to their customers, especially those with allergens. Here are some steps for customers with allergies and for food establishment employees to use in order to help avoid accidental-contamination of food:
Consumer Checklist:
✓ Visit the restaurant's website to make sure the menu has items that will suit your diet and taste buds
✓ Call ahead to make sure the restaurant will accommodate your needs- this is a good sign of whether a restaurant is properly trained on food allergens
✓ Choose a time of day that is less busy to dine at a restaurant- it is less likely for mistakes to occur
✓ Print out a Food Allergy Alert Card which outlines allergens you must avoid
✓ Make your server/ wait staff aware of your allergen and the importance
✓ Ask to see ingredient lists & prepackaged labels
✓ Avoid buffets as they are more likely to have contact with food allergens
✓ Carry your epinephrine and ensure someone with you knows how to use it
✓ Be an expert on your allergy- no one knows your body & reaction like you do!
Restaurant Employee Checklist:
✓ Make yourself aware of food allergens, the symptoms of a reaction and what you can do to help avoid food allergic reactions for your customers
✓ Have a print-out in a highly visible spot for your staff to see allergen info
✓ Ask your patrons if they have any of the major food allergens
✓ Give specific instructions to your chef/ cooks about food allergens in each party- use Food Allergen Alert Cards
✓ Be careful not to cross-contaminate food
Sanitize the cooking utensils/ food contact surfaces before touching non-allergen food
Do not use the same grill as an allergen was prepared
Clean tables and seats between guests
Wash hands and use new gloves between touching ready to eat food especially after touching a food allergen
✓Treat them as your guests because they are!
How do I handle a food allergy reaction?
Get the food item away from the individual
Make sure their breathing is controlled and airway is open
Call 9-1-1 for emergency assistance
Have the individual administer their epinephrine auto-injector (EpiPen) if available & signs of anaphylaxis are present
Continue to keep breathing under control and minimize panic
Get them to medical care immediately
Food Allergen Toolkit
VDH is charged with protecting the public against illnesses caused by food while dining at permitted food establishments. We can help in this endeavor by providing restaurant establishments with tools and resources to educate their staff and better establish guidelines for all employees to follow. Here you will find a Food Allergen Toolkit that includes many resources.
Training Programs for Restaurant Employees

These courses assist your staff in better understanding food allergens and the public's needs regarding allergen safety. Plus, you'll get the gold star from the food allergy community!
Visit the following sites to get up-to-date information on food allergies, resources and support groups: