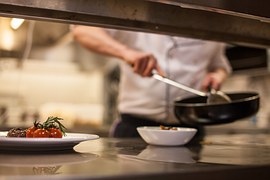 Love eating out but will pass on the foodborne illness? Here is how VDH helps to keep you full and well after dining at one of the many Virginia food establishments!
The Virginia Department of Health has 35 local health districts that work to keep food safe across the Commonwealth. There are approximately 300 Environmental Health Specialists across the state that perform vital operations such as restaurant plan review, food establishment inspections, foodborne illness investigations, and food safety education. Virginia has over 25,000 permitted food establishments that must be inspected to ensure safety of the food you eat while dining out. Whether it's from a food truck or a five-star restaurant, you can rest assured that VDH is taking measures to work with food workers to maintain the safest food handling practices. Some establishments that are on our radar include:
✓ Fast-Food Establishments
✓ Cafeterias such as hospitals, schools & nursing homes
✓ Temporary Food Events (such as festivals & celebrations)
✓ Hotel Continental Breakfasts
All food establishments that serve the public must be permitted through the Virginia Department of Health. This requirement allows VDH and restaurant operators to collaborate in the safe handling of food from the kitchen to your plate. We all want to avoid getting sick! Browse the VDH Food Safety pages to learn how we keep food safe and steps you can take to keep yourself healthy.