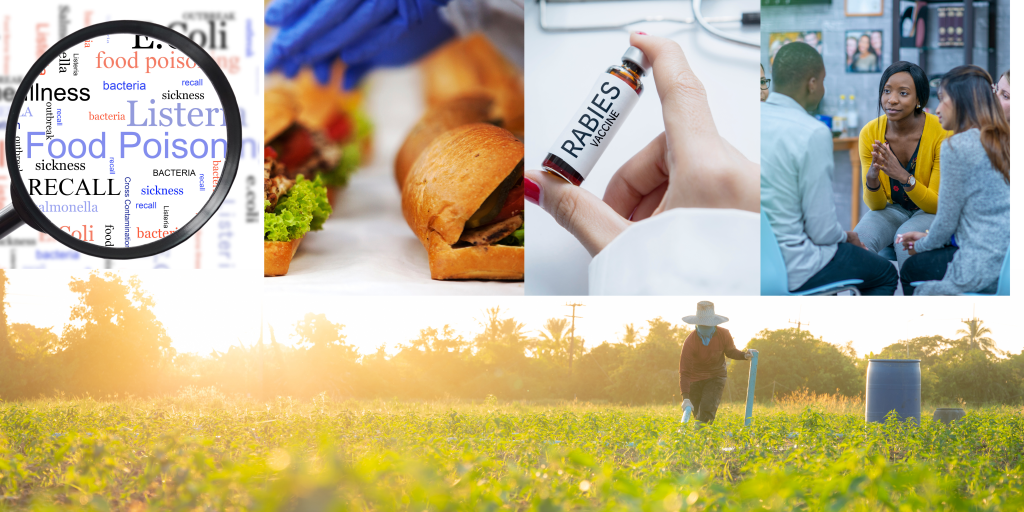 Environmental Health Services protect the health and safety of Crater Health District residents through safe food and water, proper sewage disposal, correction of environmental hazards and investigation of animal bites/rabies exposures.
Program Areas
Food Safety
The Environmental Health (EH) professionals evaluate and inspect restaurants, schools, hotels, motels, campgrounds, summer camps, migrant labor camps, adult and child day care centers and vendors at public temporary events for food safety.
Food safety training is extremely important in ensuring that food establishments offer the safest food possible to the public.  The Crater Health District strongly recommends that food establishment owners and employees at all levels receive food safety training. Understanding food safety principles can help prevent a food-borne illness—an illness that is related to the consumption of improperly prepared or handled food.
The Crater Health District offers several food safety classes throughout the year for all levels of food service workers, food establishment owners, temporary food vendors (persons preparing and serving foods at public events) and persons preparing foods for large crowds.  Food safety classes offered include: ServSafe® Certification and temporary food vendor classes.  A proctored exam for ServSafe® Certification is also offered.  Training for groups of food service workers at the requesting facility is available.  Educational opportunities for churches and civic organizations who want to learn about food safety are available upon request.
Onsite Sewage and Well Services
EH conducts site evaluations for design and permitting of septic systems and private wells. We also review private sector submittals for permit issuance. EH staff perform inspections and investigate reports of raw sewage or other ground water contamination. Staff work to provide assistance and useful information to the public regarding their sewage disposal systems and private water supplies.
Environmental Health New Onsite Fees 7_1_19 Click here for a current list of onsite sewage and well application fees.
Rabies Control
EH works with animal control to investigate animal exposure reports and submits specimens to the state laboratory for rabies testing. We work with pet owners to ensure proper confinement and quarantines are conducted to protect public health and offer outreach and education about rabies to the community.
Other program areas include annual inspection and complaint investigation on motels/hotels, campgrounds, summer camps and migrant labor camps. In the City of Hopewell and Petersburg conducts annual inspections on grocery stores and convenience stores.
---
Contact Information
Contact your local health department for further assistance or to report an environmental health concern.
---
Applications and Forms
Application Food Establishment Permit
Food Establishment Permit Checklist
Food Safety Course Enrollment Form
Onsite Sewage and Well Application Fees
---
Resources for Restaurants
---
---
Online Resources
Office of Environmental Health Services
Homepage for VDH's Office of Environmental Health Services. Provides information on regulations governing restaurants, tourist establishments (hotels/motels), swimming pools at tourist establishments, campgrounds, summer camps, migrant labor camps, product recalls and general public health information.
CDC Recreational Water-Associated Illnesses
For information on recreational water-associated illnesses and general public health issues.
US Food and Drug Administration
For information on food safety, general public health issues and product recalls.
US Department of Agriculture
For information on food safety and product recalls.
Virginia Tech Extension Service
For information on food safety and drinking water protection.