2022 National Preparedness Month: A Lasting Legacy
"The life you've built is worth protecting. Prepare for disasters to create a lasting legacy for you and your family."
Nicole DeStefano poses with the wooden spoon trophy for chicken taco chili awarded to the cookoff winner. She stated that it was perfect for a cool evening at home when you want something easy to prepare. Destafano is a Region 4 Licensing Specialist for the Department of Behavioral Health and Developmental Services.
No Power? No Problem! Look At These Delicious Emergency Kit Meals
September is National Preparedness Month, and the VDH Office of Emergency Preparedness collaborated with OnTheSquare Virginia to host the annual Emergency Kit Cook-off on September 20th on the patio of the James Madison building. Any state employee is eligible to participate and the rules are simple: food items must be nonperishable and the cooking source and cooking tools must not be electric.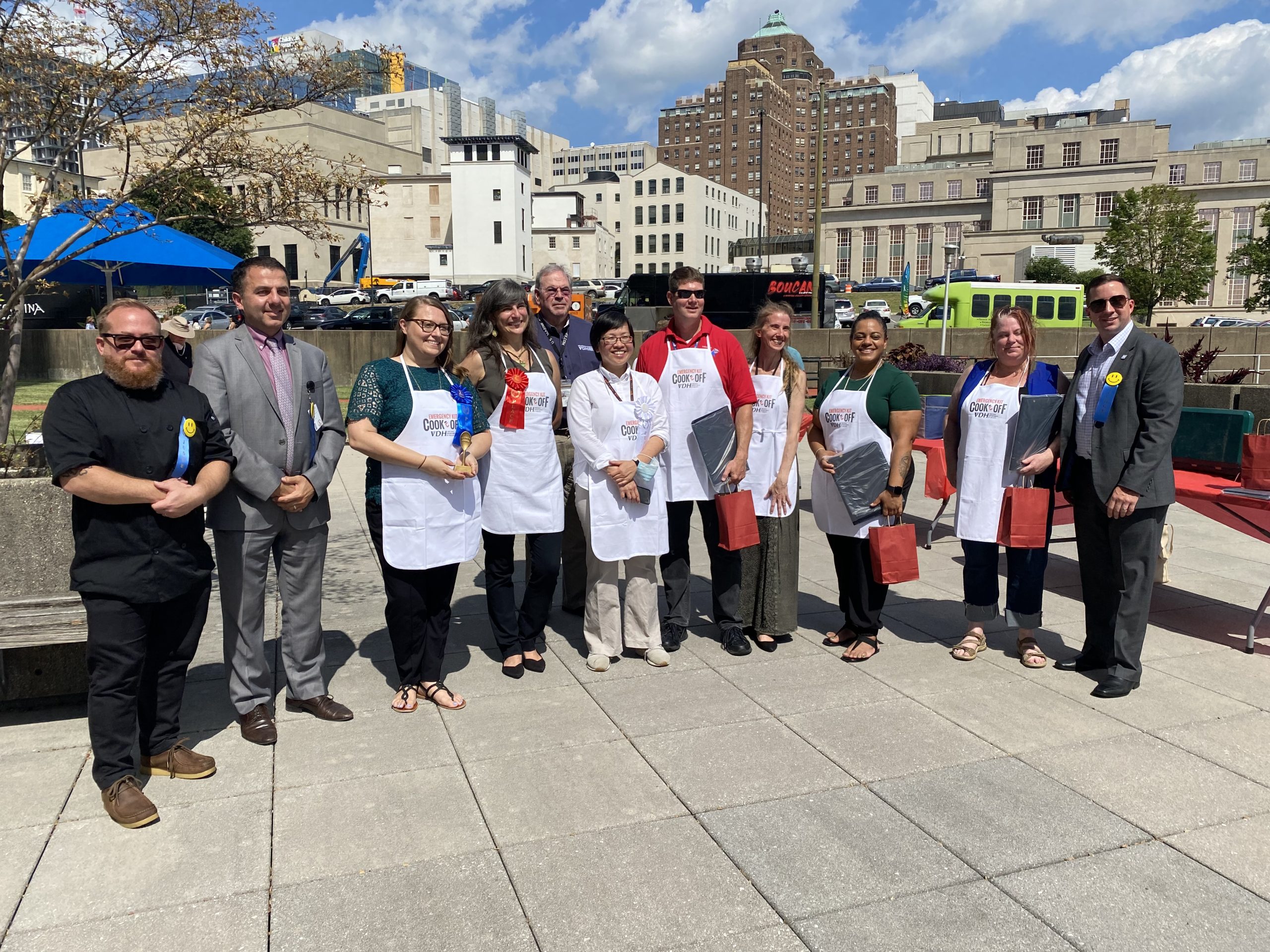 State Health Commissioner Colin M. Greene, MD, provided opening comments and then contestants had 50 minutes to prepare their food. After this time, the each of the 5 judges tasted each of the dishes and provided a score in the areas of taste, appearance, and ease of preparation during an emergency.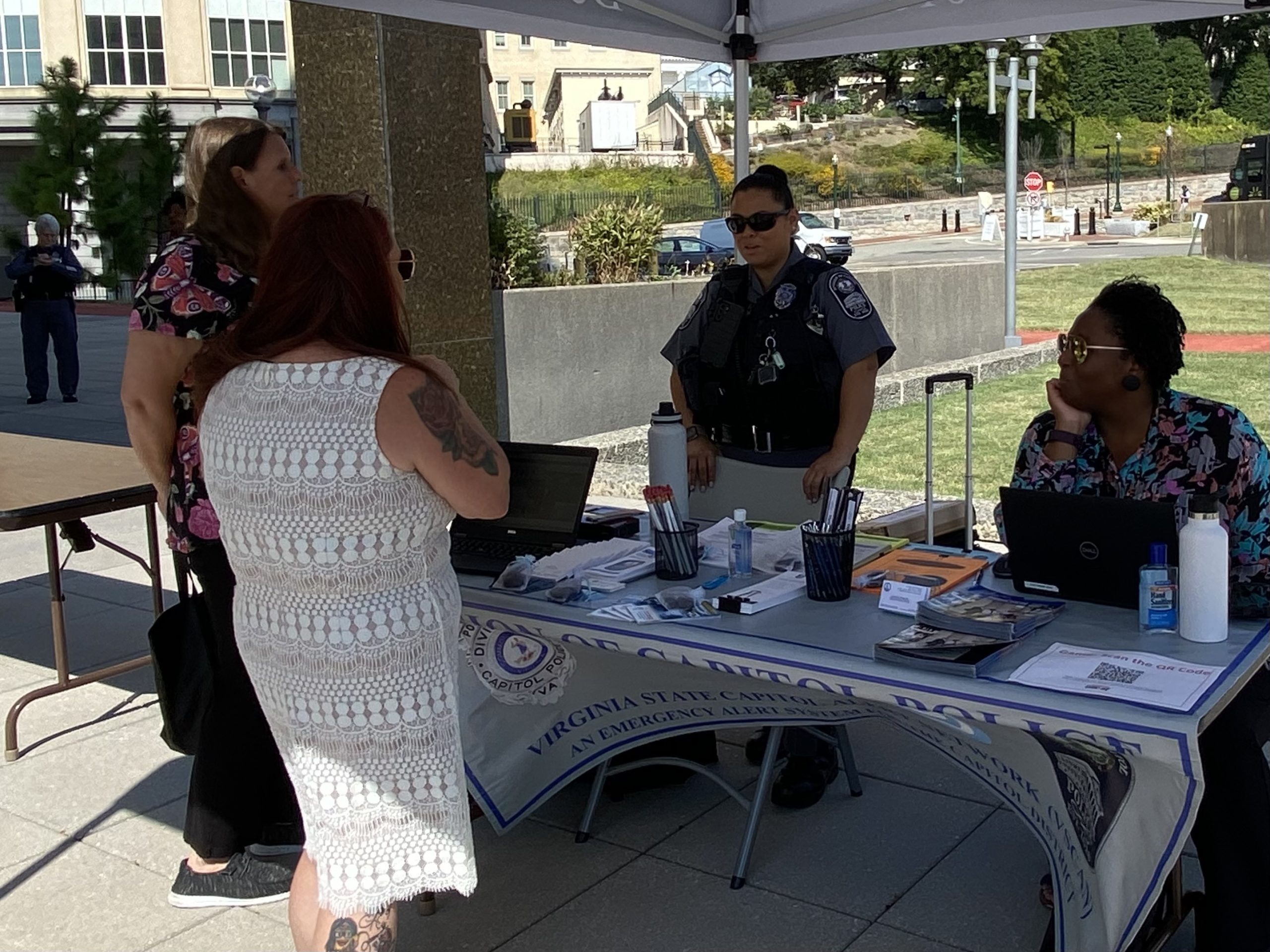 But great cooking wasn't the only fun occurring. DJ Sclater (James Sclater, OEP Training Coordinator) was on the scene providing upbeat music keeping spirits high. Flu shots and COVID-19 shots were available, provided by Walgreen's pharmacy. There were also information tables from
Greater Richmond Medical Reserve Corps
American Red Cross Richmond Chapter
Virginia Capitol Police
VDH Office of Radiological Health's radon awareness program
Partners in Prayer and Prevention Program
VDH WIC and Breastfeeding Program
Virginia SART
Sheehy-Emergency Car Preparedness
COVAHealth-Coach Lou
VDH Office of Health Equity
Contestants and Their Dishes
Nicole DeStefano, Department of Behavioral Health and Development Services, Chicken Taco Chili, first place
Tanya Pruett, Department of Elections, Aunt Donna's Yummy Taco Soup, second place
Ju-yin Chen, Virginia Department of Transportation, Thai Red Curry, third place
Natalie Paul, Department of Human Resources Management, Chicken a la Nat
Arden Lynn, VDH Office of Procurement and General Services, Tatsu Maki Sushi
Mike Magner, VDH Office of Emergency Preparedness, Emergency Chicken Fried Rice
LaCora Hurte, Department of Education, Black Bean and Corn Salsa
Judges
Ed Gross, Governor's Chef
Bob Mauskapf, Director, VDH Office of Emergency Preparedness
Dr. Parham Jaberi, VDH Community Health Services
Tiffany Ford, VDH Deputy Commissioner of Administration
Matthew Marry, Director of Emergency Preparedness, Virginia Hospital and Healthcare Association
Questions about National Preparedness Month or the Emergency Kit Cook-off contact Adreania Tolliver adreania.tolliver@vdh.virginia.gov