Would You Be Ready if There Was an Emergency?
Be prepared: assemble an emergency supply kit, make your emergency plans, stay informed, and be involved in helping your family, your business, and your community to be ready.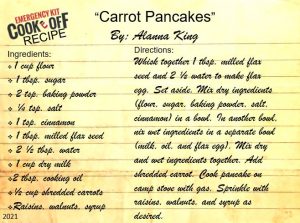 Select Each Tab to Learn More About Specific Emergency Situations
Frequently Asked Questions About Emergency Preparedness: 
How do you even begin preparing for an emergency?
As with everything, preparing for an emergency is a process and takes time and careful planning. Here are some resources you can access to help you understand what you need to do.
An In-depth Guide to Citizen Preparedness
What should I have in a three-day emergency kit?
The rule of thumb is to have 3 days of water and food for each person in your family for an emergency, but don't forget your pets. However, there are other items that are important too. Use the ready.gov information to make sure your kit is stocked with items you will need.
Food and Water in an Emergency
Emergency Kit Cookbook Collection
How do I create a disaster plan for my family?
Not all emergencies happen while we are at home or with our family. Therefore, be prepared with a plan if your family is separated. Use the ready.gov information to develop a plan to contact one another and reconnect if separated.
How can I prepare financially for a disaster?
In an emergency, our immediate safety is most important, but in the long run, there are many components to think about including finances. Ready.gov has a brief video about 3 Steps to prepare your finances for natural disasters. Check it out.
Where can I get an emergency contact card?
Emergency contact cards are useful and should include a current list of medications and special needs that may be required by your household membrs. Use both sides and add as much additional information as possible including out-of-state contracts that may know more about your family's needs.
American Red Cross Emergency Contact Card
What if I have an infant or a small child?
Young children need more preparation than an adult. Don't forget to plan ahead and make sure your child is well hydrated and has the necessities for at least 72 hours.
Disaster Planning: Infant and Child Feeding
Disaster Safety for Expecting and New Parents
Infant Feeding in Disasters and Emergencies
What can I do as a parent or caregiver to help my child cope?
Disasters and emergencies can be scary for kids, but the more they know the better they can deal with a stressful situation.
I have a generator. I should be fine, right?
Learn how to use a generator correctly and safely. Remember to follow the manufactures recommendations for grounding the generator and always use in a well ventilated area outside.
I own a business. How can I prepare my business for an emergency situation?
No business should risk operating without a disaster plan.