Informing, Educating, and Empowering Communities
---
Health Education Programs
Health Promotion
5-2-1-0…Let's Go!

Let's Go! is a nationally recognized childhood obesity prevention program. We partner with schools, child care and out-of-school programs, healthcare practices and community organizations to change environments where children and families live, learn, work and play. For more information, visit the 5-2-1-0 Let's Go! Website.

Chronic Disease Education

Diabetes

Tele-Education

Many people would like to get their diabetes in better control, but don't know how to do it. It's may not be as hard as you think. The LENOWISCO Health District can help! Four different sessions are available at each health department in the district, all FREE of Charge to anyone who is interested in doing something positive about their diabetes. Topics covered include: self-management, nutrition basics, glucose control, and activity. For more information about UVA Telemedicine programs, visit https://uvahealth.com/services/telemedicine-telehealth-services  | Special Programs | Diabetes

Tobacco

Freedom From Smoking

The American Lung Association's Freedom From Smoking® (FFS) program is for adults who are ready to quit smoking. Because most people know that smoking is dangerous to their health, the program focuses almost exclusively on how to quit, not why to quit. The Freedom From Smoking® group clinic includes eight sessions and features a step-by-step plan for quitting smoking. Each session is designed to help smokers gain control over their behavior. The clinic format encourages participants to work on the process and problems of quitting, both individually and as part of a group.
Quit Now Virginia is a toll-free tobacco cessation phone counseling service that is provided to Virginia residents aged 13 and older 24 hours a day, seven days a week. Callers may receive one-on-one cessation counseling, information and self-help materials for residents who want to quit smoking or using tobacco. The counseling offered by the specially trained Quit Coaches, combined with medication prescribed by healthcare providers, give the best chance of quitting successfully.  1-800-QUIT-NOW / 1-800-784-8669

Abstinence Education

Abstinence education is provided to students in area schools and adolescents in community groups. The program teaches about having respect for yourself and others; making positive choices; and setting and achieving goals for well-being.

Community Gardens

Community gardens provide fresh produce and plants as well as contributing to a sense of community and connection to the environment and an opportunity for learning about growing your own healthy foods. To find a community garden near you, contact your local extension agent: http://www.ext.vt.edu/offices/

Community Coalitions

Community coalitions are comprised of parents, teachers, law enforcement, businesses, religious leaders, health providers, local government and other community activists who mobilize at the local level to empower their communities to be safer, healthier, and drug-free.
Community Health Fairs and Events

Health Fairs
Back-to-School Fairs
Remote Area Medical (RAM) of Virginia
Elder Health & Safety Fairs

General Information

Health educators provide information on health and health related issues.  They can assess health training needs and plan health education programs.  They may specialize according to specific health concerns, illnesses, or work or training setting.  Health Educators often:

Perform health training needs assessments.
Design and develop health education programs.
Publish health education materials, information papers, newsletters, and grant proposals.
Develop health education curriculum.
Teach health in public and private schools as well as in the community.

Safety and Injury Prevention

Car Seat Safety Program– FREE, new car seats, including convertible and booster seats for older children, are available to families who qualify.  Clients (parents, legal guardians, and foster parents) must attend a short class to learn the correct placement and use of the car seat or booster seat. Also MCH staff provide community safety seat outreach. Special Programs

SipsmartER

People who drink a lot of sugary drinks have more of a chance to have an unhealthy weight, poor dental health, diabetes, heart disease, and cancer. In Southwest Virginia, we drink 2 times more sugary drinks than other Americans. We also have the highest rates of obesity, diabetes, heart disease, and poor dental health in the state.  SIPsmartER is a free program that could help you take control of your health by:

sharing information about the health risks of sugary drinks
reading food labels
learn the tricks in sugary drink ads
how much sugary drinks really cost you
how to make it easy to drink non-sugary drinks
building confidence to tell sugary drinks and non-sugary drinks apart
find tasty non-sugary drinks
say "no" to sugary drinks
offering support to create personal plans to change what you drink
track your sugary drink intake
reach personal goals

Virginia Foundation for Healthy Youth (VFHY)

The Virginia Foundation for Healthy Youth (VHFY) empowers Virginia's youth to make healthy choices by promoting active, nutritious and tobacco-free living. Since the Foundation began its work in 2001, high school smoking in Virginia has been cut by more than 60 percent and the number of middle school smokers has dropped by more than 75 percent. The VFHY directly reaches about 50,000 children each year through evidence-based, educational prevention programs in public schools, after-school programs, community centers, daycares and nonprofits across the state.

Virginia Healthy Youth Day
REV YOUR BEV Day
Healthy Community Action Teams (HCAT)
---
Community Assessment & Improvement
 What Is a Community Health Assessment?
The Public Health Accreditation board defines community health assessment as a systematic examination of the health status indicators for a given population that is used to identify key problems and assets in a community. The ultimate goal of a community health assessment is to develop strategies to address the community's health needs and identified issues. The essential ingredients are community engagement and collaborative participation.  A community health assessment (CHA) refers to a health assessment that identifies key health needs and issues through systematic, comprehensive data collection and analysis. Community health assessments use such principles as:
Multisector collaborations that support shared ownership of all phases of community health improvement, including assessment, planning, investment, implementation, and evaluation
Proactive, broad, and diverse community engagement to improve results
A definition of community that encompasses both a significant enough area to allow for population-wide interventions and measurable results, and includes a targeted focus to address disparities among subpopulations
Maximum transparency to improve community engagement and accountability
Use of evidence-based interventions and encouragement of innovative practices with thorough evaluation
Evaluation to inform a continuous improvement process
Use of the highest quality data pooled from, and shared among, diverse public and private sources
What Is a Community Health Improvement Plan?
The Public Health Accreditation Board defines a community health improvement plan as a long-term, systematic effort to address public health problems on the basis of the results of community health assessment activities and the community health improvement process. A plan is typically updated every three to five years.  This plan is used by health and other governmental education and human service agencies, in collaboration with community partners, to set priorities and coordinate and target resources. A community health improvement plan is critical for developing policies and defining actions to target efforts that promote health. It should define the vision for the health of the community through a collaborative process and should address the gamut of strengths, weaknesses, challenges, and opportunities that exist in the community to improve the health status of that community.
Why Complete an Assessment and Improvement Plan?
A community health assessment gives organizations comprehensive information about the community's current health status, needs, and issues. This information can help develop a community health improvement plan by justifying how and where resources should be allocated to best meet community needs.
Benefits include:
Improved organizational and community coordination and collaboration
Increased knowledge about public health and the interconnectedness of activities
Strengthened partnerships within state and local public health systems
Identified strengths and weaknesses to address in quality improvement efforts
Baselines on performance to use in preparing for accreditation
Benchmarks for public health practice improvements
LENOWISCO Health District Community Health Assessment
The LENOWISCO Health District (LHD) is located in the beautiful Appalachian mountains of southwest Virginia, extending east from the Cumberland Gap, and bordering Kentucky and Tennessee.  Much of our district is closer to at least seven other state capitals than to Richmond.  LHD serves the three counties of Lee, Wise and Scott, and the independent city of Norton.   The District office is located in the Town of Wise, in Wise County.
LHD serves a population of approximately 92,000. Much of the population has historically been directly or indirectly dependent on coal mining. The region is known for its coal industry and music heritage as well as the abundance of outdoor activities tied to the mountains and local rivers, the Washington/Jefferson National Forest, Natural Tunnel State Park, and Wilderness Road State Park among other outdoor attractions. Our region includes the nation's largest National Historical Park, at the Cumberland Gap, state parks, and several local facilities with trail systems for camping, ATV/OHV adventures, hiking, biking, climbing, sightseeing, bird-wildlife watching, and water-related adventures totaling over 550 miles. The area also boasts the Southwest Virginia Museum, the Trail of the Lonesome Pine outdoor drama, and the Carter Family Fold entertainment venue and the home of June Carter Cash and the Carter family, to name a few destinations. In addition, the University of Virginia's College at Wise continues to expand, attracting students from across Virginia and beyond.  For region-wide information, maps, and calendars related to local outdoor activities, attractions, music, shopping, arts, celebrations and festivals, visit: www.heartofappalachia.com
Scott County

Wise County & City of Norton

Lee County

What are the THREE (3) most important health problems in your community?

 
 
 

What do you believe are the THREE (3) most important "risk behaviors" that should be addressed in our community?

 
 
 
---
Community Coalitions
 What are Community Coalitions?
Community coalitions are comprised of parents, youth, teachers, law enforcement, businesses, religious leaders, local government, health providers and other community activists who are mobilizing at the local level to make their communities safer, healthier and drug-free. Coalition members all work together to promote the health, well-being, learning, and empowerment of everyone in the community.  Family and community involvements foster partnerships among schools, family and community groups, and individuals. These partnerships result in sharing and maximizing resources and ideas. And they help children and youth develop healthy behaviors and promote healthy families.  Find out how you can empower your community to live a healthy lifestyle by visiting our Regional Partnerships page.
How do Coalitions Make a Difference in Communities?
Coalition building is a smart strategy that promotes coordination and collaboration and makes efficient use of limited community resources. By connecting multiple sectors of the community in a comprehensive approach, community coalitions are achieving real outcomes.
Strategic Prevention Framework (SPF)
The five steps and two guiding principles of the strategic prevention framework (SPF) offer professionals a comprehensive process for addressing problems facing their communities. The effectiveness of the SPF begins with a clear understanding of community needs and involves community members in all stages of the planning process.
The steps of the SPF include:
Step 1: Assess Needs: What is the problem, and how can I learn more?
Step 2: Build Capacity: What do I have to work with?
Step 3: Plan: What should I do and how should I do it?
Step 4: Implement: How can I put my plan into action?
Step 5: Evaluate: Is my plan succeeding?
The SPF also includes two guiding principles:
Cultural competence: The ability to interact effectively with members of diverse population
Sustainability: The process of achieving and maintaining long-term results
Dimensions of Wellness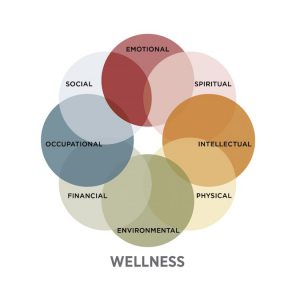 Making the Dimensions of Wellness part of daily life can improve physical as well as mental health.  Wellness is being in good physical and mental health.  Because physical health and mental health are linked, problems in one area can impact the other. At the same time, improving your physical health can also benefit your mental health, and vice versa. It is important to make healthy choices for both your physical and mental well-being.  Remember that wellness is not the absence of illness or stress. You can still strive for wellness even if you are experiencing these challenges in your life.
Learning about the Eight Dimensions of Wellness can help you choose how to make wellness a part of your everyday life. Wellness strategies are practical ways to start developing healthy habits that can have a positive impact on your physical and mental health.
The Eight Dimensions of Wellness are:
Emotional—Coping effectively with life and creating satisfying relationships
Environmental—Good health by occupying pleasant, stimulating environments that support well-being
Financial—Satisfaction with current and future financial situations
Intellectual—Recognizing creative abilities and finding ways to expand knowledge and skills
Occupational—Personal satisfaction and enrichment from one's work
Physical—Recognizing the need for physical activity, healthy foods, and sleep
Social—Developing a sense of connection, belonging, and a well-developed support system
Spiritual—Expanding a sense of purpose and meaning in life
  Seven Strategies for Community Change:
Providing Information– Educational presentations, workshops or seminars other presentations of data (e.g., public announcements, brochures, dissemination, billboards, community meetings, forums, web-based communication).
Enhancing Skills– Workshops, seminars or other activities designed to increase the skills of participants, members and staff needed to achieve population level outcomes (e.g., training, technical assistance, distance learning, strategic planning retreats, curricula development).
Providing Support– Creating opportunities to support people to participate in activities that reduce or enhance protection (e.g., providing alternative activities, mentoring, referrals, support groups or clubs).
Enhancing Access/ Reducing Barriers– Improving systems and processes to increase the ease, ability and opportunity to utilize those systems and services (e.g., assuring healthcare, childcare, transportation, housing, justice, education, safety, special needs, cultural and language sensitivity).
Changing Consequences (Incentives/ Disincentives)– Increasing or decreasing the probability of a specific behavior that reduces risk or enhances protection by altering the consequences for performing that behavior (e.g., increasing public recognition for deserved behavior, individual and business rewards, taxes, citations, fines, revocations/loss of privileges).
Physical Design – Changing the physical design or structure of the environment to reduce risk or enhance protection (e.g., parks, landscapes, signage, lighting, outlet density).
Modifying/Changing Policies– Formal change in written procedures, by- laws, proclamations, rules or laws with written documentation and/ or voting procedures (e.g., workplace initiatives, law enforcement procedures and practices, public policy actions, systems change within government, communities and organizations).
---
Data and Benchmarks
Community Health Status Indicators
Overview of key health indicators for local communities for public health professionals or community members who are interested in the health of their community.

 

County Health Rankings
Ranks the health of nearly every county in the nation, illustrates what is making people sick or healthy, and shows what we can do to create healthier places to live, learn, work, and play.

 

Prevention Status Reports (PSRs)
The PSRs highlight—for all 50 states and the District of Columbia—the status of public health policies and practices designed to prevent or reduce important public health problems.

Healthy People 2020
Twenty-six leading health indicators organized under 12 topics.

Kids Count
Profiles the status of children on a national and state-by-state basis and ranks states on 10 measures of well-being.

Youth Risk Behavior Survey
Monitors six types of health-risk behaviors that contribute to the leading causes of death and disability among youth and adults.

Virginia Youth Survey
The Virginia Foundation for Healthy Youth and the Virginia Department of Health jointly conduct a biennial survey of youth health behaviors in public schools, collecting information on topics including youth tobacco use, physical activity and nutrition.
Family and Children's Trust Fund of Virginia
Research, data and information about children, families, and older adults impacted by family violence in Virginia. Here you will find information about and links to the family violence data indicators, issue briefs, the annual FACT Report, and additional data and research resources.
Safe Schools Information Resource (SSIR)
SSIR is a web based reporting tool to research school safety data. By selecting criteria in each category the output report may be filtered to specific areas of interest.
City-Data
By collecting and analyzing data from numerous sources, we're able to create detailed, informative profiles of all cities in the United States with lots of information from crime rates to weather patterns.
---
Get Involved! 
Want to get involved?  Visit our Regional Partners page to find out how you can help to empower your community to be healthy!