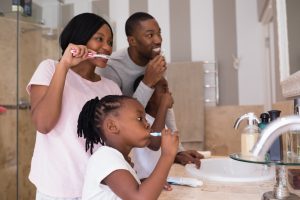 Oral health is health!  The Dental Health Program (DHP) at VDH works internally and with partners to make Virginia the healthiest state in the nation by improving equitable access to dental care and public health interventions that improve oral health outcomes.
The DHP in Virginia began in 1952 with school-based clinical programs.  At its peak, VDH employed over 100 dentists and auxiliary staff to provide dental services and education.  In recent years, the Agency has re-aligned the DHP's focus on prevention and education and has transitioned clinic-based restorative programs to community-based prevention programs.  The ability of VDH dental hygienists to work under "Remote Supervision," without the direct supervision or initial exam of a dentist, has led to the success of the community-based education, dental sealant, and dental fluoride varnish programs.
In addition to school-based clinical care, DHP staff perform many duties including the provision of:
Educational activities and resources to a wide variety of partner groups to promote proper oral health and hygiene, and support prevention services and access to dental care
Direct clinical preventive services in unconventional settings and assistance with establishing a dental home
Quality assurance reviews to assure a competent public health oral health workforce
Support for medical and dental collaborative efforts
Surveillance and evaluation activities to monitor and track dental disease rates and trends and for program assessment of effectiveness and planning
How Should I Keep My Teeth Healthy During COVID-19?
Download the flyer here.