Farm to CACFP aims to connect participants to nutrition education, Virginia grown foods, and gardening opportunities. Through these activities, CACFP participants learn about Virginia agriculture while building their knowledge and interest in healthy foods.
Fall Happenings with Farm to CACFP
Crunch Heard 'Round the Commonwealth - October 7

Have you made plans for the Crunch? On October 7th, schools, centers, homes, and organizations around the Commonwealth will bite into a Virginia grown apple to celebrate Virginia agriculture. It's not too late to register for your digital Toolkit by clicking here! The Toolkit is a great resource for activity ideas, promotional materials, and tips for finding Virginia grown apples. Use #VACrunch to promote your activities on social media.
Farm to CACFP Week - October 18-24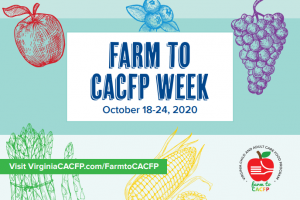 Save the date for Farm to CACFP Week! Click here to register for our digital toolkit, filled with free virtual events and an online toolkit to help you celebrate. Keep your eyes peeled for an email with the link. We invite you to get creative in planning events at your center or home and incorporate local items into your menu during the week. Don't forget to use #VAFarmtoCACFP when you promote your program on social media!
Farm to CACFP COVID-19 Resources
While many people throughout the US are experiencing food insecurity during this time and finding food is in limited supply at the grocery store, farmers are also finding it difficult to access markets in order to sell their food. This makes our jobs more important than ever, as we have the ability to bridge this gap. Below are some resources and ideas to help connect you to local food during the COVID-19 pandemic.
Activity inspiration
From taste tests to farm visits, Farm to CACFP includes anything pertaining to Virginia agriculture, which includes food or gardening education, or eating seasonal or local food. Farm to CACFP is comprised of three elements:

Here are a few activity ideas. If you have activities that are not listed below, please share them with us!
Taste test with local and/or seasonal foods (different varieties of apples, different colored carrots, etc.)
Add a local food item or dish to your menu
Maintain a garden
Nutrition education activities
Visit a grocery store or farm
Cooking or food preparation demonstrations
A farmer or gardener visits your center
Connect with a community garden for field trips or collaboration
What's in season?
Click here to download a helpful chart of what's in season in Virginia throughout the year.
Connect with local food
Find a Farmers' Market through the Virginia Farmers Market Association
Connect with local food distributors that only source Virginia grown foods:
4P Foods
Local Food Hub
Appalachian Sustainable Development
Don't have time for a Farmers' Market visit? Ask your grocery store or food distributor if they have local produce—often times they do!
Connect with local partners
FeedVA's interactive map is an excellent source for connecting with local partners.
Local VA Farm Bureau Offices have volunteer boards that conduct different activities.
Virginia Cooperative Extension can connect you educational opportunities and to Master Gardeners.
Connect to educational resources
USDA's Grow It, Try It, Like It! Educational Toolkit for Child Care Centers. Order online or email Brittany.thorp@vdh.virginia.gov for a free toolkit.
USDA's Grow It, Try It, Like It! Educational Toolkit for Family Day Care Homes. Order online or email Brittany.thorp@vdh.virginia.gov for a free toolkit.
National Farm to School Network's Early Care and Education resources
Harvest for Healthy Kids Lesson Plans organized by fruit/vegetable 
Growing Minds Preschool Lesson Plans
Virginia Agriculture in the Classroom, Harvest of the Month Materials
Promote and celebrate Farm to CACFP
Use #VAFarmtoCACFP and #VACACFP to promote your program on social media.
We want to hear about the work you're doing! Please click below to share your activities with us.