Background
The 2017 General Assembly established the Emergency Department Care Coordination (EDCC) Program within the Virginia Department of Health (VDH) to provide a single, statewide technology solution that connects healthcare facilities, including acute care hospitals and post-acute care facilities. The EDCC now includes MDRO Flags for Candida auris and Carbapenemase-producing Organisms (CPOs). 
Goal
The MDRO Flags are to notify facilities admitting patients or residents known to be infected or colonized with Candida auris or Carbapenemase-producing Organisms.  
Facilities should still communicate MDRO status on transfer. MDRO Flags are not intended to be a replacement of recommended communication, just an addition, as the alerts will only include information for Virginia residents known to VDH and the data transfer is not real-time.  
---
How it Works
Virigina Department of Health electronically verifies submitted case information. Then MDRO Flags will show up in an enrolled facility's electronic health record when patients are admitted. Enrolled facilities need to "turn-on" the MDRO flag notifications.  
Figure 1. Example display of MDRO Flag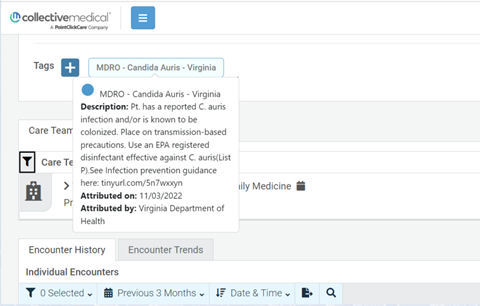 ---
Resources
---
Contact Information
Enrolled Facilities: Email Sarah Watt (sarah.watt@pointclickcare.com) and Collective Medical Support (support@collectivemedical.com) to turn on MDRO Flags
Facilities Interested in Enrolling: Email Marcus Divers (marcus@vhi.org) & EDCC Support (EDCCSupport@vhi.org)
Infection Prevention and Control Questions: Email hai@vdh.virginia.gov