---
Proudly serving the Amelia, Buckingham, Charlotte, Cumberland, Lunenburg, Nottoway, and Prince Edward counties of Virginia.
---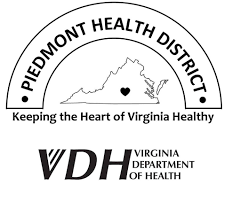 Our Mission: To achieve and maintain optimum personal and community health for the residents in the Piedmont Health District by emphasizing health promotion, disease prevention, and environmental protection.
FILL OUT YOUR COVID-19 TREATMENT PLAN – Download me!
Fentanyl Resources:
Appointments for no-cost, easily administered naloxone can be scheduled at any local health department for at-risk individuals and their friends or family. In addition to the medication, patients will receive brief counseling with our nurses on how to identify signs of an overdose and how to correctly administer naloxone. Call (434) 392-8187 x 137 and leave a message to learn more or call any of the local health departments at the number listed on our locations page. 
---
Senior Management
111 South Street, Farmville, VA 23901  (434) 392-3984
Maria Almond, MD MPH, District Health Director
Matthew Claybrook, Business Manager
Cynthia DeBusk, RN BS, Public Health Nurse Manager, Sr.
David Waldrep, Environmental Health Manager
Hope Bates, Human Resources
Christopher Thompson, Emergency Coordinator 
Carol Hartsoe, IT Specialist
Karen Townsend, Nutritionist Supervisor, Sr.
Kayla Williams, Epidemiologist, Sr.
Wynona Adams, Office Services Supervisor, Sr.
Daphne Dodson-Gray, Office Services Supervisor, Sr.
Michele Templeton, Fiscal Technician
Amy Beatson, MS, COVID-19 and Grants Coordinator
Erica Mosby-Patterson, Health Educator
Briauna Marcum, Public Relations Specialist
---