---
Proudly serving the Amelia, Buckingham, Charlotte, Cumberland, Lunenburg, Nottoway, and Prince Edward counties of Virginia.
---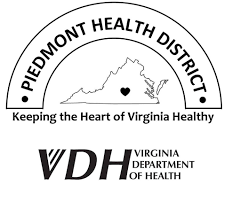 Our Mission: To achieve and maintain optimum personal and community health for the residents in the Piedmont Health District by emphasizing health promotion, disease prevention, and environmental protection.
Our Vision: To become one of the leading health districts in Virginia and a valued member of the community.
Respiratory Illness Advisory: The Piedmont Health District is seeing an uptick in respiratory illnesses including RSV, influenza and COVID-19. A reminder to follow respiratory etiquette:
Use tissues to cover the mouth and nose when sneezing and coughing.
Dispose of the tissue immediately and wash hands thoroughly.
Wash hands with soap and hot water for at least 20 seconds.
Rinse and dry hands with a disposable towel.
Use towel to turn off the faucet.
Encourage the practice of strict hand hygiene and the use of alcohol-based hand sanitation products.
---
Senior Management
111 South Street, Farmville, VA 23901  (434) 392-3984
Maria Almond, MD MPH, District Health Director
Matthew Claybrook, Business Manager
Cynthia DeBusk, RN BS, Public Health Nurse Manager, Sr.
David Waldrep, Environmental Health Manager
Hope Bates, Human Resources
Christopher Thompson, Emergency Coordinator 
Carol Hartsoe, IT Specialist
Karen Townsend, Nutritionist Supervisor, Sr.
Kayla Williams, Epidemiologist, Sr.
Wynona Adams, Office Services Supervisor, Sr.
Daphne Dodson-Gray, Office Services Supervisor, Sr.
Michele Templeton, Fiscal Technician
Amy Beatson, MS, COVID-19 and Grants Coordinator
Erica Mosby-Patterson, Health Educator
Briauna Marcum, Public Relations Specialist
---