---
We are proud to serve the Amelia, Buckingham, Charlotte, Cumberland, Lunenburg, Nottoway, and Prince Edward counties of Virginia.
---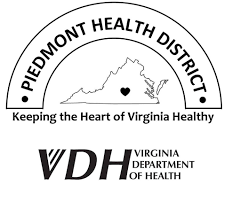 Our Mission: To achieve and maintain optimum personal and community health for the residents in the Piedmont Health District by emphasizing health promotion, disease prevention, and environmental protection.
Our Vision: To become one of the leading health districts in Virginia and a valued member of the community.
Click here to find a printable brochure with all of our services listed.
Did you know? The health department has a general information hotline: (434) 392-8187 x 137. Contact us with any questions about our services! In the case of a medical emergency, call 911. This line is just for questions and inquires.
Physicals are offered here for any individual 13 and up! This includes sports, college-entry, school, bus driver, work, etc. Call your local health department to schedule an appointment! Under 18 requires a parent/guardian to be present. *College-entry and school physicals require immunization records*
Monkeypox in Piedmont
The Virginia Department of Health (VDH) and the Piedmont Health District are responding to an outbreak of monkeypox that has spread across several countries that don't normally report monkeypox, including the United States. For information on monkeypox in Virginia, please visit the VDH monkeypox website. If you are a healthcare provider, please visit the monkeypox website for healthcare providers. 
If you have symptoms, such as a new rash, separate yourself from other people and pets, cover your lesions, and contact your healthcare provider. 
The Piedmont Health District is working to ensure that residents who have been exposed or are at high risk of being exposed to monkeypox receive a vaccination. If you are interested in receiving a monkeypox vaccination, please complete our interest form (found here) or call your LHD nurse. For general monkeypox information please call our hotline at (434) 392-8187 x 137. 
Find the factsheet here.
---
Senior Management
111 South Street Farmville, VA 23901, (434) 392-3984
Maria Almond, MD MPH, District Health Director
VACANT, Business Manager
Cynthia DeBusk, RN BS, Public Health Nurse Manager, Sr.
David Waldrep, Environmental Health Manager
Christopher Thompson, Emergency Coordinator 
Karen Townsend, Nutritionist Supervisor, Sr.
VACANT Epidemiologist, Sr.
Wynona Adams, Office Services Supervisor, Sr.
Daphne Dodson-Gray, Office Services Supervisor, Sr.
Briauna Marcum, Public Relations Specialist
---