---
We are proud to serve the Amelia, Buckingham, Charlotte, Cumberland, Lunenburg, Nottoway, and Prince Edward counties of Virginia.
---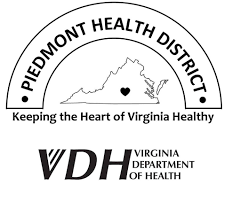 Our Mission: To achieve and maintain optimum personal and community health for the residents in the Piedmont Health District by emphasizing health promotion, disease prevention, and environmental protection.
Our Vision: To become one of the leading health districts in Virginia and a valued member of the community.
Click here to find a printable brochure with all of our services listed.
---
Senior Management
111 South Street Farmville, VA 23901, (434) 392-3984
Maria Almond, MD MPH, District Health Director
Joshua Worrell, MBA, Business Manager
Cynthia DeBusk, Public Health Nurse Sr.
Charles Waldrep, Environmental Health Manager
Christopher Thompson, Local Health Emergency Coordinator 
Karen Townsend, Nutritionist Supervisor Sr.
Rhonda Pruitt, MPH, Epidemiologist Sr.
Cynthia Felton, Certified Nurse Practitioner Sr.
Wynona Adams, Office Services Supv Sr.
Daphne Dodson-Gray, Office Services Supv Sr.
Briauna Marcum, Public Relations Specialist
---