Policy Briefs
The Virginia State Office of Rural Health will be publishing a monthly series of rural health briefs. The intention of these briefs is to provide the reader a better understanding of the challenges rural and underserved communities have faced during the COVID-19 pandemic. Each brief will address different health-related topics and provide opportunities for improvement on how to build a healthier rural Virginia during, and following the pandemic.
Strengthening
Mental Health Care in Southwest Virginia

(January 2023)
by Sety Abooali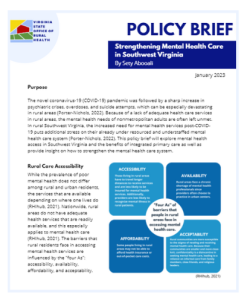 The novel coronavirus-19 (COVID-19) pandemic was followed by a sharp increase in psychiatric crises, overdoses, and suicide attempts, which can be especially devastating in rural areas (Porter-Nichols, 2022). Because of a lack of adequate health care services in rural areas, the mental health needs of nonmetropolitan adults are often left unmet. In rural Southwest Virginia, the increased need for mental health services post-COVID-19 puts additional stress on their already under resourced and understaffed mental health care system (Porter-Nichols, 2022). This policy brief will explore mental health access in Southwest Virginia and the benefits of integrated primary care as well as provide insight on how to strengthen the mental health care system.
To access the policy brief, click here.
---
The Nursing Shortage and its
Consequences in Rural Virginia (November-December 2022)
by Sety Abooali
The national shortage of nurses in the United States (US) predates several years before the novel coronavirus-19 (COVID-19) pandemic, but the effects of the pandemic worsened the crisis to a greater degree. Virginia (VA) is among one of the states with the lowest registered nurse (RN) to patient ratio (10.5 RNs to 1,000 patients), and its rural regions suffer disproportionately compared to the more metropolitan areas. This policy brief will explore the statewide nursing shortage with a focus on rural areas and offer insights into the cause of the crisis as well as areas for improvement.
To access the policy brief, click here.
---
Implications of Ending COVID-era Waiver Flexibility
on Free School Meals in the New River Valley (October 2022)
by Sety Abooali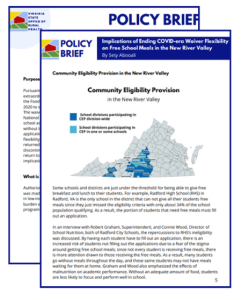 Pursuant to the Families First Coronavirus Response Act and in response to the extraordinary circumstances caused by the novel coronavirus-19 (COVID-19) pandemic, the Food and Nutrition Service established a temporary nationwide waiver in March 2020 to support the implementation of the Community Eligibility Provision (CEP). The waiver applied to any state and local educational agencies administering the National School Lunch Program and School Breakfast Program and allowed every school across the Commonwealth to offer free breakfast and lunch to all students without the administrative burden and stigma associated with individual-family applications. Subsequent temporary waivers maintained the increased program flexibility through August 2022. Since then, school administrators and students have returned to their schools and classrooms and are grappling with the aftermath of the discontinuance of waiver flexibility. The purpose of this policy brief is to explore the return to pre-COVID-19 Community Eligibility Provision eligibility criteria and its implications for students in Virginia's rural New River Valley.
To access the policy brief, click here.
---
Ensuring Telemedicine Access in the Rural Eastern Shore, Virginia (September 2022)
by Sety Abooali
Since the novel coronavirus-19 (COVID-19) pandemic, telemedicine has been an increasingly common national practice to expand healthcare accessibility. However, rural areas are disadvantaged in accessing telemedicine compared to their urban and suburban counterparts, mainly because of a lack of broadband internet. The purpose of this policy brief is to explore the barriers and opportunities to implementing telemedicine in Virginia's rural Eastern Shore region, and to offer recommendations and actions that will support telemedicine for rural Virginians.
To access the policy brief, click here.
---
Maternity Care Access in West Piedmont (August 2022)
by Sety Abooali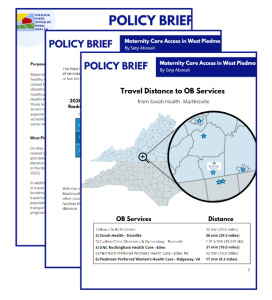 Maternity care is vital in ensuring that pregnant females and their newborns stay healthy throughout and after the pregnancy, but many rural residents across the United States (US) face barriers to accessing maternity care due to an absence of obstetric (OB) facilities, limited or lack of obstetrics and gynecology (OB/GYN) healthcare professionals, and long transportation times. After the closure of the Sovah Health-Martinsville labor and delivery unit in Virginia's West Piedmont health district, those living in Martinsville and surrounding counties have less access to OB care. Less access to maternity care is correlated with increased risks of the mother and baby experiencing adverse birth outcomes. This policy brief will explore the decreased accessibility to maternity care in the West Piedmont region and its effects, as well as some recommendations to eliminate maternity care deserts.
To access the policy brief, click here.
---
Albemarle County's Housing Crisis (July 2022)
by Sety Abooali
This policy brief explores Albemarle County's new policy approach of addressing the need for available and affordable housing while preserving the surrounding rural natural environment. Albemarle is predominantly rural, and their urban-focused housing development agenda may overlook the pressing need for healthy rural housing and living conditions, especially for the rising senior population. The county's housing policies are also rooted in systemic racism which has created disadvantages of homeownership and housing cost burdens for marginalized communities of color. To effectively confront its housing crisis, Albemarle County will have to utilize a health equity lens to fully address the housing needs of the rural communities.
To access the policy brief, click here.
---
Focus on School-based Mental Health for Rural Central Virginia's Youth (June 2022)
by Sety Abooali
This policy brief will highlight the rising need for accessible mental health care among the rural youth population residing in central Virginia (VA). Those living in rural areas have historically been more susceptible to poor mental health days and decreased access to healthcare care services. The school shutdowns caused by the novel coronavirus 2019 (COVID-19) pandemic only heightened the mental health issues among the adolescent population. Expanding School-based Mental Health (SBMH) services is an opportunity to focus on the youth population's mental health needs in an effective and convenient way, but legislation is needed to address rural school boards' limited funding resources in order for SBMH to be implemented.
To access the policy brief, click here.
---
Food Insecurity in Southwest Virginia (May 2022)
by Sety Abooali
This policy brief will explore the intersectionality between food insecurity and socioeconomic status as well as the COVID-19 impacts, specifically focusing on Southwest Virginia (SWVA). The majority of the Southwest Virginia region is federally designated as rural, and has the highest food insecurity and lowest socioeconomic status in Virginia. Yet, data on food insecurity and its consequences in the region is limited. Thus, this policy brief will also highlight the seriousness and complexity of food insecurity in SWVA and the need for future research.
To access the policy brief, click here.