Important Message from the State Primary Care Office: 
If you have questions regarding COVID-19, please check out the Virginia Department of Health Updates link HERE.
The Division of Primary Care and Rural Health recognizes these are challenging times for all of us and we want everyone to have the most accurate and up to date information possible regarding COVID-19.  Therefore, please do not call if you have questions or concerns, please redirect your search to https://www.virginia.gov/coronavirus-updates/ for updates.
State Primary Care Office
The Virginia Office of Health Equity serves as the Primary Care Office (PCO). The goal of the U.S. Department of Health and Human Services Primary Care Office Cooperative Agreement Program is to assure the availability of quality health care to low income, uninsured, isolated, vulnerable and special needs populations and to meet these populations' unique health care needs. Virginia's PCO accomplishes this through the following:
Fostering collaboration across and within various levels of government, communities, and non-profit organizations
Identifying communities with the greatest unmet health care needs, disparities, and health workforce shortages; identifying the key barriers to access to health care for these communities; and working toward solutions
Supporting the Virginia Community Healthcare Association [Virginia's Primary Care Association (PCA)] by providing information to assist in their development of a plan to manage the growth of health centers in Virginia
Supporting and enhancing the primary care workforce in the state through shortage designations, recruitment and retention activities, and administration of scholarship and loan repayment programs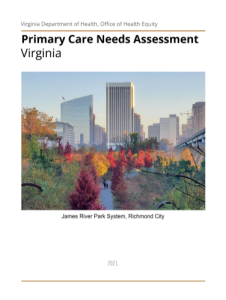 2021 Primary Care Needs Assessment
The purpose of the PCO Needs Assessment is to identify communities with the greatest unmet health care needs, disparities, and health workforce shortages within the state of Virginia and to identify the key barriers to accessing primary health care.
To read the full report click here.
Primary Care Workforce Programs:
Conrad 30 Waiver Program/National Interest Waiver Program/ARC J-1 Waiver Program
Virginia Behavioral Health Loan Repayment Program
Virginia Nursing Preceptor Incentive Program
Employment /Recruitment resources: 3RNET 
HPSA information can be found at the following sites:
https://data.hrsa.gov/tools/shortage-area
https://data.hrsa.gov/maps/map-tool/