Testing Information:
Feeling sick?  Check your symptoms here. 
Covid-19 Testing Questionnaires:
NEW Covid-19 Self-test results Reporting Portal available
Individuals who live, work or have been exposed to Covid-19 in Virginia Beach can now report self-test results and request a call from Virginia Beach Department of Public Health for information or guidance. Reporting is completely voluntary and only those wishing a call back are asked to provide a name and contact phone number or email address.   To report your home test results, visit the Self-test Reporting Portal, here.  The portal allows for additional information to be provided to those who request it, and the information collected is used to monitor and to deploy mitigation strategies to reduce the spread.
Testing available at Virginia Beach Department of Public Health office at 4452 Corporation Lane     Monday-Friday 9:00 a.m.-3:30 p.m.
For testing appointments click this link or call 877-vax-in-va (877-829-4682).  When you arrive for your appointment, please remain in your car and call 757-518-2647 to let the staff know you have arrived.
Test Results: The Virginia Beach Department of Public Health (VBDPH) can only provide results on tests completed at one of our clinics or community testing events.  If you were tested by VBDPH you would have received specific instructions and a phone number to call for results.   If you received your test at a doctor's office, urgent care, pharmacy, or other testing facility, please call that office with questions or to receive your results.
What to do -
If you have been EXPOSED:
Wear a mask as soon as you find out you've been exposed.   You should receive testing ≥ 5 days after exposure (or sooner, if they are symptomatic), irrespective of their vaccination status.  Continue precautionary measures for 10 full days (wear a high quality mask anytime your are around others when indoors; do not go places where you are unable to wear a mask; take extra precautions when around those who are high-risk).
If you have TESTED POSITIVE:
Stay home and separated from family members if  you know you're infected (usually because of a positive test result).  Symptomatic or infected persons should isolate promptly, and infected persons should remain in isolation for ≥5 days and wear a well-fitting and high-quality mask or respirator if they must be around others. Infected persons may end isolation after 5 days, only when they are without a fever for ≥24 hours without the use of medication and all other symptoms have improved, and they should continue to wear a mask or respirator around others at home and in public through day 10.  (8/11/2022)
Calculating Isolation:  To calculate your five-day isolation period, day zero is your first day of symptoms. Day one is the first full day after your symptoms develop. For example, if your symptoms started Jan. 4, you are able to end isolation Jan. 10 as long as you are no longer exhibiting COVID-19 symptoms.
If you received a positive COVID-19 result but are asymptomatic, the isolation period starts from the day after the COVID-19 test was taken.  After isolation, it is recommended everyone continue to wear a mask indoors and outdoors to reduce spread of the virus.
Isolation Release Letters: If you have been assigned a Case Investigator or a Contact Tracer through VBDPH please communicate with that person to receive a letter.
Otherwise, please contact the location where you received your test.
Finding Anti-viral treatment in Virginia Beach
There are COVID-19 Antiviral Treatments available for persons testing positive and at risk for serious illness from COVID-19
This link identifies test-to-treat locations and pharmacies that can fill a prescription written by your healthcare provider or by testing-to-treat at a site that offers that service or with a telehealth visit at participating pharmacies
Anyone 18 and up who is at risk of serious illness can take these medications that need to be started within 5 days of onset of symptoms.
The medications are provided at no cost.  Some sites may charge for services not covered by insurance.
FDA recently authorized and CDC recommended Novavax's COVID-19 vaccine as another primary series option for adolescents aged 12 through 17 years. Previously, this vaccine had been recommended for adults aged 18 years and older.
Vaccination Information
COVID-19 vaccines are safe, effective, and free.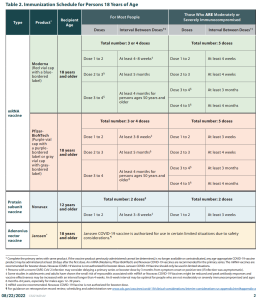 VBDPH also partners with various organizations to offer Covid-19 Community Vaccination events.  For upcoming local VBDPH vaccination clinics, click here.   Search for other vaccination clinics here.
You can find other locations such as retail pharmacies, community events, and community vaccination centers at vaccinate.virginia.gov.
Booster Information
The Virginia Department of Health (VDH) has adopted the recommendations of the Centers for Disease Control and Prevention (CDC) as relates to booster eligibility.
Visit the CDC's website for detailed information on booster eligibility and frequency:  www.cdc.gov/coronavirus/2019-ncov/vaccines/booster-shot.html
To find COVID-19 vaccine locations near you: Search vaccines.gov, text your ZIP code to 438829, or call 1-800-232-0233.
Variants
Viruses constantly change through mutation. A variant has one or more mutations that sets it apart from other variants in circulation. Variants are expected. The more the COVID-19 virus circulates, the greater the chances that new mutations or variants can develop. A variant of the virus that causes COVID-19 is considered to be concerning when it increases the risk to human health. The risk to human health could be because a variant may be able to:
Spread more easily.
Cause more severe illness.
Escape the immune protection provided by available COVID-19 vaccines or by natural infection with the virus that causes COVID-19.
Make viral tests less accurate.
Make some treatments less effective.
*There are currently two variants of concern in the United States. These are Omicron and Delta.
For more information on variants visit the Virginia Department of Health Variants Dashboard or the CDC's website:   https://www.cdc.gov/coronavirus/2019-ncov/variants/variant.html