Food Services | Special Events | Onsite Sewage | Private Well |Personal Services | Marina | Beach Water | Public Pool | Rabies | Tourist Establishment | Campgrounds | Restaurant Inspections | Mold and Moisture
---
The Environmental Health Office is open Monday – Friday from 8:15 a.m. – 5:00 p.m.  For more information or to make an appointment, please call (757) 518-2700, option #3 or visit this link for environmental related applications.
Mission Statement
The Mission of the Virginia Beach Office of Environmental Health Services, is to provide essential environmental health services to the residents and guests of Virginia Beach. These services are designed to ensure that people residing in or visiting our city can work, raise families, recreate and grow without the threat of food borne, water borne, or vector borne disease and to protect and preserve environmental resources such as earth, water, air, fauna and flora. The major focus areas of this effort are as follows:
A Food Protection Program that includes intensive food service manager training, food establishment plan review, regulatory inspections, site specific specialized employee training and required enforcement actions.
A Private Well Program that includes subdivision plan review, site feasibility studies, system design, regulatory inspections, sanitary surveys, and required enforcement actions.
A Rabies Prevention Program that includes intensive public education efforts with a major emphasis on school age children, investigation of all potential human and pet exposures, conducting rabies vaccination clinics for pet dogs and cats, insuring that all human exposures receive the entire required post-exposure prophylaxis, and required enforcement actions.
A General Environmental Program that includes liaison with federal, state and local government agencies, regulation of public swimming pools, tourist establishments, hair, nails and tanning establishments, body art and body piercing establishments and the investigation of environmental complaints.
---
Food Services

My Meal Detective is an online reporting system that allows you to file a foodborne illness report when events surrounding your illness are fresh on your mind. When you think something you ate made you sick (and possibly others), first visit your physician. Then, click the My Meal Detective icon and fill out all of the questions completely to capture as much information as possible to send to your local health department. The health department will examine your report, investigate if needed, and capture real-time information about what is going on in your community.
Special Event / Temporary Food Service Requirements
A yearly fee of $40 is required to accompany your permit application.
If you have previously paid the $40 fee (within the current year and/or at another health department), a receipt of this payment is required with your permit application.
Special Event Guidelines and Requirements Brochure
---
Onsite Sewage Program
The Onsite sewage program is designed to assist citizens in obtaining a safe and sanitary means of disposing sewage where public sewage disposal is not available. The Commonwealth of Virginia, State Board of Health, Sewage Handling and Disposal Regulations control onsite sewage disposal. All onsite sewage disposal systems require permitting by the Virginia Department of Health.  Our environmental health specialists(EHS) are certified as Onsite Soil Evaluators (OSE) through the Department of Professional and Occupational Regulation.  EHS conduct site/soil evaluations to determine the location and suitability for an onsite sewage disposal system.
If a site is found for a conventional septic tank/drainfield system, EHS can issue a permit based on that design and subsequently inspect the installation of that system.  If a conventional septic tank/drainfield system site cannot be found, many alternative onsite sewage disposal system (AOSS) options exist that may be suitable for that site. AOSS's must be  designed by a private practice OSE and/or Professional Engineer. EHS also works with property owners to assist them when their onsite sewage system is failing (sewage backing up into the structure or sewage ponding on the ground surface).  Our EHS's will consult with the property owner to determine the best way to repair the failing sewage system.
Other services provided by the Virginia Beach Health Department's Onsite Sewage Program include:
-Reviewing subdivision request from the City of Virginia Beach
-Review and permit of private OSE/PE applications for residential and commercial development.
-Review and permit Pump and Haul Storage Facility Construction Permits
-Investigate reports / complaints of raw sewage on the ground
-Inspect and permit sewage hauling vehicles that pump septic tanks and grease traps
-Regulates the Operation and Maintenance program to ensure owners of Alternative Onsite Sewage Systems (AOSS) are having their systems properly maintained.
 Conventional Onsite Sewage System
Alternative Onsite Sewage Systems (AOSS)
Alternative Onsite Sewage Systems are complex sewage systems that incorporate more treatment of sewage than just a septic tank and drainfield. The Virginia Department of Health developed Regulations for Alternative Onsite Sewage Systems that went into effect on December 7, 2011, and include regulations for operation and maintenance of these systems. Certain requirements, such as requiring owners of newly installed alternative systems to record notices in the land records and for owners to operate their alternative systems according to manufacturers' instructions had already been required by the Code of Virginia.
Proper operation and maintenance of an AOSS is required by law and is necessary to ensure continued functioning of your alternative system and may prevent premature failure of the system. Operation and maintenance information for your alternative system may be found by contacting the original system designer or contacting the Virginia Beach Health Department. You can also find maintenance providers for your AOSS by clicking here. For more information on AOSS operation and maintenance, please contact an environmental Health Specialist at the Virginia Beach Health Department at (757) 518-2646.
Our staff works to provide assistance and useful information to the public regarding their sewage disposal systems and private water supplies.
If you have any questions, please contact the Office of Environmental Health at (757) 518-2646. 
Below are links for more information on the Onsite Sewage Program: 
How Systems Work
GMPs (Policy) & Product Approvals
---
Private Well Program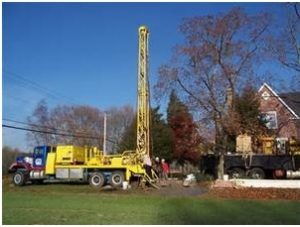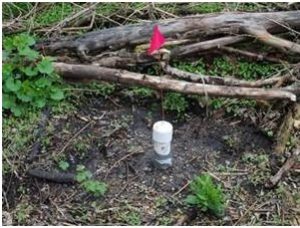 The Private Well Regulations became effective in 1990 to ensure private wells are located, constructed, and maintained in a manner that does not affect the safety and health of people and the environment. A permit is required by the Virginia Department of Health before the construction, alteration, or abandonment of a private well. The Virginia Beach Health Department will conduct a site evaluation of the property to ensure the proposed well meets the required setbacks to sources of contamination. Examples of contamination sources are: Termite treated foundations, septic systems, retention ponds, agricultural fields, and underground oil tanks. Once the site evaluation is complete a private well permit will be issued by the Department which will show an area on the property where the well is to be located. The key goal of the Virginia Beach Health Department is to ensure the underground aquifer is protected no matter what type of well is drilled. Our private well program also includes regulatory well inspections, sanitary surveys, well sample collection, and required enforcement actions.
There are several types of wells the Virginia Beach Health Department permits. They include domestic drinking water wells, irrigation wells, geothermal wells and agricultural wells. There are two different well applications that can be used to have these wells permitted. The first application is the Class IV Express Well Application. This application may be used for Class IV (non-potable) wells located on properties without an active onsite septic system.. The property owner and well driller must sign this application before submitting to the Health Department. The other application is our Regular Well Application which can be used for any Class of well.
Please contact the Virginia Beach Health Department to determine which application can be used for your specific situation.  For more information and resources on the Private well program from the Virginia Department of Health, click here.
These are some key elements that prospective applicants should be aware of:
A PERMIT is required to be obtained PRIOR to the construction of any private well.
All water well drillers practicing in the Commonwealth of Virginia are required to be licensed by the board of contractors under the Department of Professional and Occupational Regulation. When hiring a well driller, be sure they are licensed.
Property owners cannot install their own well. Only a licensed well driller can install a well in the Commonwealth of Virginia. 
The FEE associated with obtaining a permit for a new well is $300.00.
 In most cases, a SITE VISIT is necessary before the permit can be issued. Time should be allowed during the planning of a new well for the Health Department to complete the site visit.
 Applicants should provide a SITE PLAN TO SCALE with the completed application form and fees
---
Private Well Program FAQ
What is the Private Well Program?
The Private Well Program deals with the construction and repair of private wells.
Any new well or the repair of an existing well requires a Health Department permit.
The construction and location requirements for wells are in the Virginia Private Well Regulations.
How can I obtain a Health Department Permit to install a new well or repair an existing well? 
Applications for Health Department Permits are available at the Virginia Beach Health Department Office of Environmental Health Services.
They are also available here. Detailed site plans and fees are required in most cases.
Site conditions may influence the issuance of a well construction permit.
Please contact Environmental Health at (757) 518-2646 for further information.
Can I install a well on my own property? 
No. You must have a well driller licensed through the Department of Professional and Occupational Regulation.
No matter what type of well you are applying for (irrigation, heat pump or drinking) you must have a licensed well driller.
How can I check on the status of my well permit application? 
It is helpful to have all the information about your application available i.e., the Health Department Identification Number (HDIDNO) which begins "228-xx- ", the date the application was filed, the complete street address, and the name of the Environmental Health Specialist assigned to your application.
How can I register a complaint about a private well?
Complaints can be registered by calling (757) 518-2646 or by visiting the Office of Environmental Health Services between the hours of 8:15 a.m. and 5:00 p.m. Monday through Friday.
---
Personal Services
Body Art and Body Piercing
Body Art and Piercing Inspections are based on the Code of Virginia Beach and must obtain permits.
Body Art includes; tattooing, permanent makeup, branding and scarification.
The City of Virginia Beach has over 14 establishments and they are required to be inspected every 30 days and the
Virginia Beach Department of Public Health follows the strict guidelines set forth by the CDC.
Click below to download a copy of the Virginia Beach Department of Public Health's
APPLICATION FOR TATTOO PARLOR/BODY PIERCING ESTABLISHMENT
For further information regarding services and fees, please call our office at (757) 518-2646.
Nail, Tan and Hair Ordinance
Effective January 1, 2011, the Virginia Beach City Ordinance #18-56 and #23-57 will require all nail salons and other establishments that offer nail services be permitted by the Virginia Beach Department of Public Health (VBDPH).
A completed application is required for a VBDPH permit along with a $30.00 fee.
All nail salon service establishments must submit plans of their salon, including location of restrooms, tables, footbaths, storage of professional tools, equipment, and chemicals. The plans do not need to be computer generated. They may be hand drawn; however, they must be neat, legible and to scale. The plans must be submitted to VBDPH for plan review and this service is free of charge. The submission of plans can be completed in person or mailed to the office at 4452 Corporation Lane, Virginia Beach, VA 23462.
See below to review the City of Virginia Beach rules and regulations governing nail salons.  For further information, please call our office at (757) 518-2646.
Please click on the link below to open the:
Virginia Beach Department of Public Health's Personal Service Guidelines
---
Marina Program
Recreational boat pollution has been identified as a serious threat to local water quality in coastal areas where boats congregate.
The Virginia Beach Health Department's Marina Program oversees regulations that require marinas and other places where boats are moored to have adequate sanitary facilities in order to protect public health and improve wat
er quality.
One of the goals of the Virginia Beach Health Department is to inform owners of vessels with installed and portable toilets about the problems when sewage is discharged overboard.  In addition, Virginia Beach Health Department also works to ensure that boat mooring locations have adequate sanitary facilities, pump-out equipment and facilities for emptying of portable toilets, are made available to properly handle waste generated from boating activity.
All marinas and other locations where boats are moored are required to have a certificate to operate,
 These certificates are issued through the Commonwealth of Virginia's Department of Marina Programs.
---
Additional Resources:
For other Frequently Asked Questions related to the Marina Program,  click here .
For Marina related codes and regulations,  click on the following links:
For a map of Marina public Pump-out stations in Virginia Beach,  click here.
(Map may take a few minutes to load.)
---
Beach Water Monitoring
Collection site Map:
WaterMonitoring2016_8locations

The Sample Collection Process > In pictures
Beach Water Monitoring Q & A
Why does the Public Health Department test beach water?
To protect the public from harmful bacteria that can cause illness. We have been testing beach water since 1976.
What do you do if the numbers are too high?
We issue a swimming and wading advisory, urging the public to stay out of the water until it is clean. The city posts signs on the beaches, issues news releases and posts warnings on Facebook and Twitter.
How long do these advisories last?
Usually 24 hours.
Once you test, how quickly do you get results?
The next day. Unfortunately, that means we don't learn about dirty water until one day after it is found. Right now, that's the fastest turnaround possible. When we retest to see if the water has cleaned itself, the results of that test also take one day.
Where does the bacteria come from?
It's impossible to pinpoint exactly what causes each case of high bacteria levels. We do know that waste from wildlife, domestic pets, storm and agricultural runoff, breaks in waste water pipes, sewage overflows and boat discharges can all contribute to higher levels.
Does the weather affect test results?
Yes. Heavy rain often causes higher bacteria levels because it forces huge amounts of storm water to be discharged through outfalls.
How many advisories were issued in Virginia Beach in recent years, and how long did they last?
The results vary a lot, year by year: 2010 - 12 advisories, 2011 - 3 advisories, 2012 - 10 advisorie,s 2013 - 4 advisories. All the advisories were lifted after one resample the next day.
What happens if a person is exposed?
While Enterococci do not cause illness, studies indicate that their presence is closely correlated to the presence of other disease-causing organisms. People swimming or playing in waters with bacteria levels higher than the standard have a greater risk of developing gastrointestinal illness and skin, eye and respiratory infections.
What can YOU do to help?
-Pet owners should pick up after their pets and properly dispose of fecal matter.
-Pet waste should not be thrown in storm water drains or left to decompose outside.
-Use trash cans along the beach for used food wrappings, beverage containers, diapers and sanitary supplies.
-Please don't feed the birds because that encourages them to hover over the beach. Bird droppings are a significant source of beach water pollution. -----------------
-Garbage disposals empty their waste directly into the sanitary sewer system, so use them only if absolutely necessary.
-Also, fats and oils can cause sanitary sewer blockages and overflows. Information on proper disposal can be found HERE.
---
Public Swimming Pool Program
The City of Virginia Beach has over 500 pools that are inspected by Virginia Beach Department of Public Health Staff every 30 days during the typical swimming season.  Below is information for those operating swimming pools in the city of Virginia Beach regarding pool safety tips, recreation water illnesses, and pool safety compliance.
SWIMMING POOL SAFETY TIPS
Ensure that the pool operator, at a minimum, has taken part in a standardized training course given by aquatics professionals.
Integrate healthy swimming and disease prevention into aquatic staff training.
Promote good hygiene and safety around the pool.
Inform parents that unhealthy behaviors at poolside and elsewhere are no longer acceptable (refer to how to prevent recreational water illness). Parents told CDC that they wanted to be able to rely on the lifeguards for help and enforcement.
Ensure that all staff know the critical role of water testing, proper testing methods, and how to respond if disinfectant levels are not adequate.
Make sure that staff can explain, in a way that is not offensive and is acceptable to parents, why behaviors such as using public tables and chairs for diaper changing is a health risk. This may require that an older, more experienced staff member be assigned to the kiddie pool.
***Also consider providing signage in a conspicuous location before pool entry.
Recreational Water Illness (RWI)
Recreational Water Illnesses are caused by waterborne organisms such as Cryptosporidium, Giardia, E. coli O157:H7, and Shigella.
Recreational Water Illnesses are spread by accidentally swallowing pool water that has been contaminated with organisms that cause diarrhea.
Pool water is shared by all swimmers and is not sterile.
Germs causing Recreational Water Illnesses are killed by chlorine. However, chlorine doesn't work right away.
It takes time to kill germs and some organisms like Cryptosporidium can live in pools for days. Even the best maintained pools can spread illness.
How to prevent Recreational water illness (RWI) 
Don't swim when you have diarrhea.
Don't swallow the pool water.
Wash your hands with soap and water after using the restroom or changing diapers.
Take your kids to the bathroom often.
Change diapers in the bathroom and not at poolside.
Wash your child thoroughly with soap and water before allowing them to swim.
Maintaining pool water quality according to existing public health requirements will prevent the spread of most recreational water illnesses (RWI's).
For additional tips on recreational water illness prevention and response to recreational pool fecal accidents, please click on the following link to the
Center for Disease Control's Fecal Accident Response Recommendations for Pool Staff  brochure.
IS YOUR POOL IN COMPLIANCE???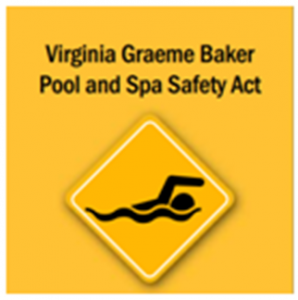 The Virginia Graeme Baker Pool and Spa Safety Act, or VGB Act, was signed into federal law in 2007. This act was designed Public pools and spas that are not in compliance with the VGB Act may not open for use.
The VGB Act contains three federally enforced mandates:
All drain covers (public and residential) manufactured, imported, distributed, or offered into commerce must comply with the new ASME/ANSI A112.19.8 2007 standard. Proof of compliance requires testing and certification by a Nationally Recognized Testing Laboratory, except for "Field Fabricated Outlets" defined under Section 2.3.1 of the ASME standard.These specialized suctionoutlets may qualify for site-specific certification by a Registered Design Professional, as defined in Section 1.5 of the ASME standard.
All public pools and spas (new and existing)must be retrofitted with covers that meet the new ASME/ANSI A112.19.8 2007 standard, or qualified Field Fabricated Outlets may be certified by a Registered Design Professional, as stipulated in the ASME standard.
 All public pools and spas that have a single drain other than an unblockable drain must employ one or more additional options.
View the VGB Guide to see if your pool is in compliance and for steps to take in order to be in compliance.
In addition, visit http://www.poolsafely.gov/pool-spa-safety-act/read/ to read the entire VGB Act.
Local compliance: 
Pools in Virginia Beach must also be in compliance with the City of Virginia Beach's local Swimming Pool Ordinance.
---
Rabies
Information provided by the Virginia Department of Health
Office of Epidemiology, Rabies Division
Rabies is a deadly disease caused by a virus that attacks the nervous system. It kills almost any mammal or human that gets sick from it. The rabies virus is mainly in the saliva and brain of rabid animals. It can be transmitted through a bite or by getting saliva or brain tissue in a wound; rarely by getting virus in the eye or mouth.
Only mammals get rabies; birds, fish, reptiles, and amphibians do not. Skunks, bats, foxes, raccoons, dogs, cats, and some farm animals are most likely to get rabies. Rabbits, squirrels, rats and mice, and small pets like gerbils and hamsters seldom get it.
Rabies can be prevented in cats, dogs, ferrets, and some livestock with a rabies vaccination. For most wild and exotic animals, there are no rabies vaccines available that have been shown to protect them.
At present, there is an oral wildlife rabies vaccine available only to State or Federal Rabies Control Programs. The use of an oral rabies vaccine in an area may decrease the number of rabid animals, but will not eliminate the need for vaccination of pets or other domestic animals.
For additional information on rabies, please see the following Rabies Fact Sheet from the Virginia Beach Department of Public Health by clicking here.
To report an animal bite, please contact Virginia Beach Animal Control at:
757.385.5000
For questions or additional information on rabies, please contact the Virginia Beach Department of Public Health at:   757.518.2646
---
Tourist Establishment Program
Hotels
The Tourist Establishment Program includes, Hotels (Hotel Regulations), Motels and Campgrounds. There are over 120 Tourist Establishments under permit in Virginia Beach. For further information, please call our office at (757) 518-2646.
---
Campgrounds
The Virginia Beach Health Department conducts annual inspections of all campgrounds located within Virginia Beach. These inspections ensure that campgrounds are operating in a safe and sanitary manner.
All campgrounds are required to have a permit to operate issued by the Virginia Beach Health Department.
Permits to operate expire on December 31st of each year and must be renewed annually.  A campground will be inspected prior to any permit being issued.
The annual permit fee to operate a campground is $40.00.
Click here for the Commonwealth of Virginia's Application for Department of Health Permit.
Applications can be mailed or delivered in person to:
Virginia Beach Department of Public Health
Pembroke Corporate Center III
4452 Corporation Lane 
Virginia Beach VA 23462
---
During a campground inspection, Environmental Health Specialists look at many different items to determine if the campground is in compliance with rules and regulations governing campgrounds.
Amenities checked during a campground inspection include: 
Camp Sites
Water supply
Sewage disposal
Sanitary dump stations
Service buildings
Garbage disposal
Insect/rodent/weed control
Swimming pools located at campground facilities are also inspected every 30 days during the swimming season. In addition, the Virginia Beach Health Department responds to any environmental complaints from the public regarding campground facilities.
For more information on rules and regulations regarding campground operations, click on the following link from the Virginia Department of Health:
Rules and Regulations Governing Campgrounds
---
Restaurant Inspections
To view the current Restaurant Inspections for establishments within the City of Virginia Beach, click on the link below.
City of Virginia Beach restaurant inspections
---
Mold and Moisture
Molds are types of fungi that are part of the natural environment. They can be found almost anywhere-indoors and out. When there is a lot of moisture or high humidity levels in the home, mold can begin growing rapidly. Leaking roofs, floors and plumbing can cause water to enter the home.  Molds may grow on walls, ceilings, mattresses, furniture, clothing, toys and many other items. If you have mold growing in your home, there is most likely a moisture or water problem. Mold can affect people's health in different ways but particularly if you suffer from asthma or other respiratory problems.
If you have a mold problem, the Virginia Beach Department of Public Health can assist you with education and questions you may have. Unfortunately, the Virginia Beach Department of Health does not have the capability to provide environmental testing or remediation. For rental units, the Virginia Beach Housing Code Enforcement division is able to inspect for visible signs of mold and mildew.
Please see the links below for further information.
Links:
EPA Brief Guide to Mold, Moisture, and Your Home, click here.
CDC- Mold Resources, click here.
VDH FAQs about Mold, click here.
City of VB FAQs about Mold in Residential Rental Properties, click here.