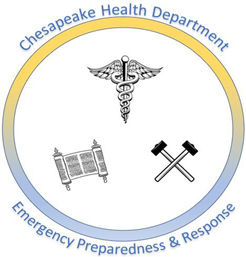 The Emergency Preparedness and Response (EP&R) Division of the Chesapeake Health Department is responsible for planning, preparing for and responding to public health emergencies. Additionally, EP&R assists other divisions with disease surveillance and recognition, environmental monitoring and developing appropriate safety procedures for both employees and the public.
EP&R staff work regularly with local agencies and organizations such as hospitals, police, fire and rescue, schools, non-profit organizations, and emergency management officials to ensure adequate community-wide planning and preparedness
The Chesapeake Health Department is accredited by the National Association of County & City Health Officials' Project Public Health Ready (PPHR). Project Public Health Ready is a competency-based training and recognition program that assesses preparedness and assists local health departments or groups of local health departments working collaboratively as a region to respond to emergencies. It builds preparedness capacity and capability through a continuous quality improvement model.
Preparedness activities include:
All-hazards emergency planning

Development of emergency response policies and procedures

Collaboration with other local, regional, and state emergency response partners

Conducting and participating in emergency response exercises

Conducting emergency response training with local agencies

Conducting emergency preparedness training activities for the public

Development of a cadre of volunteers to be called upon during a public health emergency
Emergency preparedness involves the personal responsibility to prepare yourself and your family to be self-sufficient in the event of a disaster
The type of disaster, whether man-made or natural, will impact the decisions you will need to make and the actions that you may need to take. Being prepared and knowing what to do can make all the difference when it comes to your family's safety and the protection of your property.
Take the simple 3-step all-hazards approach:
1) Have a Kit – What to include in your kit
2) Have a Plan – How to make a plan
3) Stay informed – Chesapeake Alert System; National Weather Service – Wakefield
Chesapeake Health Department Facebook & Twitter
Virginia Department of Health YouTube Channel
If a disaster occurs, local emergency management resources will do everything possible to get services back to normal as quickly as possible, but you need to remember that it may take time and you and your family could be on your own for an unknown period of time.
Severe Weather
Severe weather can happen anytime, in any part of the country. Severe weather can include hazardous conditions produced by thunderstorms, including damaging winds, tornadoes, large hail, flooding and flash flooding, and winter storms associated with freezing rain, sleet, snow, and strong winds. A tornado is a violently rotating column of air extending from the base of a thunderstorm down to the ground. Tornadoes are capable of completely destroying well-made structures, uprooting trees, and hurling objects through the air like deadly missiles. Tornadoes can occur at any time of day or night and at any time of the year. If you know what to do before, during, and after a tornado you can increase your chances of survival. Download a free thunderstorms, lightning, and tornado booklet for more information.
Listen to local news or NOAA Weather Radio for emergency updates. Watch for signs of a storm, like darkening skies, lightning flashes or increasing wind.

If you can hear thunder, you are close enough to be in danger from lightning. If

thunder roars, go indoors! Don't wait for rain. Lightning can strike out of a clear blue sky.

Keep away from windows.

If you are driving, try to safely exit the roadway and park. Stay in the vehicle and turn on the emergency flashers until the heavy rain ends.

If you are outside and cannot reach a safe building, avoid high ground; water; tall, isolated trees; and metal objects such as fences or bleachers. Picnic shelters, dugouts and sheds are NOT safe.
Hurricane Season
The Atlantic hurricane season begins June 1 and lasts through November 30. Forecasters at the National Oceanic and Atmospheric Administration (NOAA) are predicting a near-normal hurricane season for the 2023 Atlantic Hurricane Season.  NOAA is forecasting a range of 12 to 17 total named storms (winds of 39 mph or higher). Of those, 5 to 9 could become hurricanes (winds of 74 mph or higher), including 1 to 4 major hurricanes (category 3, 4 or 5; with winds of 111 mph or higher). NOAA has a 70% confidence in these ranges.
Visit Virginia Department of Emergency Management to learn more about hurricanes in Virginia and what you and your family can do to prepare.
Epidemiology
The role of epidemiology is to prepare for and rapidly respond to the deliberate release of, or natural exposure to harmful viruses, bacteria and other germs (agents). This is accomplished by routinely detecting, assessing, and controlling the spread of unwanted pathogens. The Chesapeake Health department, its neighboring health districts and the state health department use disease and syndrome surveillance, disease investigation and disease trend analysis to rapidly identify threats to public health. Chesapeake citizens also have a role in public health epidemiology by recognizing and reporting potential hazards to the health department. You can contact the communicable disease program to report a potential public health hazard by calling (757)382-8642 and/or the main number at (757) 382-8600
Isolation & Quarantine
According to the Centers for Disease Control and Prevention (CDC) in order to contain the spread of a contagious illness, public health authorities rely on many strategies. Two of these strategies are isolation and quarantine. Both are common practices in public health, and both aim to control exposure to infected or potentially infected persons. Both may be undertaken voluntarily or compelled by public health authorities. The two strategies differ in that isolation applies to persons who are known to have an illness, and quarantine applies to those who have been exposed to an illness but who may or may not become ill.
Bioterrorism
Defined by the Centers for Disease Control and Prevention: "A bioterrorism attack is the deliberate release of viruses, bacteria, or other germs (agents) used to cause illness or death in people, animals, or plants. These agents are typically found in nature, but it is possible that they could be changed to increase their ability to cause disease, make them resistant to current medicines, or to increase their ability to be spread into the environment. Biological agents can be spread through the air, through water, or in food. Terrorists may use biological agents because they can be extremely difficult to detect and do not cause illness for several hours to several days. Some bioterrorism agents, like the smallpox virus, can be spread from person to person and some, like anthrax, cannot." EP&R assists with medication dispensing, planning, and management during a bioterrorism event.
Useful Links
Contact Information:
Jerry Tucker | District Health Emergency Coordinator
Chesapeake Health Department
748 Battlefield Blvd, North
Chesapeake, VA 23320
Office – (757) 435-2439
Email – jerry.tucker@vdh.virginia.gov
---
Chesapeake Medical Reserve Corps
The Chesapeake MRC Mission
The mission of the CMRC is to organize, train, and deploy local medical, health, and community volunteers to support medical and public health response efforts in the City of Chesapeake.
About the Chesapeake MRC
The Chesapeake Medical Reserve Corps promotes a partnership between professional emergency personnel and the people they serve. If a disaster overwhelms or delays a community's professional emergency response, Chesapeake MRC volunteers may assist by applying the response and organizational skills they learned during training.
Chesapeake MRC volunteers maintain and refine their skills by participating in exercises and activities. Supplemental training is offered live and on-line to further their skills. Members can volunteer for projects that improve community emergency preparedness.
The goal is to train members, both medical professionals and other volunteers, in response skills. These skills can help save and sustain lives following any disaster or emergency in our area.
Volunteer Activities:
Assist with all hazards

Practice drills for readiness

Immunization Clinics / Campaigns

Educational Presentations and Events

Support Existing Health Organizations

Coordinate with other agencies
Volunteers Will Gain:
Emergency Skills

Emergency Practice

Valuable Health Information

Networking and Event Opportunities

Chance to Support Their Community

Work With Other Health Professionals/Agencies

Personal/Family Preparedness Information
Requirements:
An application

Copy of your license if applicable

Up-to-date contact information on file

Orientation Training

Identification

Personal Preparedness (you can't help others if you are not available)
You do not have to be a medical professional to participate! We need your help! To find out more visit https://www.vdh.virginia.gov/mrc/
If you are interested in volunteering with the Chesapeake Medical Reserve Corps, please click here to register on the Virginia Volunteer Health System and the Medical Reserve Corps Coordinator will reach out to you.
Contact Information:
Kayla Edwards – MRC Coordinator
Chesapeake Health Department
748 Battlefield Blvd, North
Chesapeake, VA 23320
Office – (757) 382-8719
Work Cell – (757) 374-7459
Email – kayla.edwards@vdh.virginia.gov