Get the Latest Guidance
K-12 and Child Care Testing
COVID-19 testing programs are a safe, effective way to help prevent the spread of COVID-19 and help keep schools and child care facilities open for in-person instruction and care. Testing helps find people who have the virus quickly before it can spread to others. VDH also strongly recommends all individuals who are eligible get vaccinated against COVID-19
For general COVID-19 and public health guidance for schools and child care, please visit the K-12 Education and Childcare Guidance Webpage.
The Virginia Department of Health (VDH), in partnership with the Virginia Department of Education (VDOE), offers testing resources for schools and child care facilities through July 2023. These programs are funded by the CDC ELC Reopening Schools Award.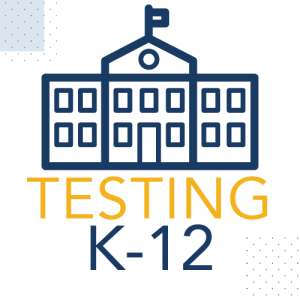 VDH provides all K-12 schools across the Commonwealth with free access to screening testing and at-home diagnostic test kits.
During the 2022-2023 school year, VDH has successfully provided COVID-19 testing support to 77% of public school divisions across the Commonwealth (101 public school divisions), as well as 70 private schools and 2 independent schools. (Updated 12/12/2022)
VDH is providing at-home rapid COVID-19 test kits to child care facilities through their local health districts. Child care facilities may distribute test kits to be sent home with students (age 2+), staff, and parents to have on hand if they need to consider testing.
For child care facilities interested in receiving test kits, please reach out to your local health district.
At-Home Antigen Test Kit Information
VDH is providing Orasure InteliSwab COVID-19  at-home rapid antigen test kits to local health departments to distribute to child care facilities. These tests may only be used for individuals 2 years of age and older.
Resources for K-12 Schools and Child Care Facilities
Frequently Asked Questions
At-Home Rapid Antigen Test Kits for Schools and Child Care Facilities
Program Contact Information
Opens pdf to download documents
External link will open in a new window.  Click link to exit Virginia Department of Health Website.