The Virginia Department of Health is working to help employers provide safe environments for all employees. To aid in your efforts to protect your employees and customers, this toolkit was developed and includes various communications resources.
The materials within this kit are intended to:
Be displayed in various locations so that everyone can see them.
Provide messages in Spanish, Mandarin, Korean, Arabic and Haitian Creole.
Be relevant to everyone, so that all employees feel supported, protected and valued.
This content can be downloaded from this website but simply clicking on the link. If you have any issues accessing this toolkit and its content, please email cshdinfo@vdh.virginia.gov.
Mask Up, Virginia! – Social Media Graphics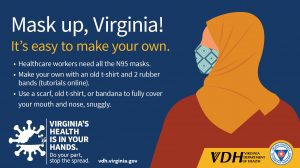 Multi-lingual
Mandatory Masking Sign
Do not enter if Sign
English Materials
Educational Posters & Infographics
COVID Check Poster ENG:
Masking
Materials for placement around the workplace
Social Distancing Table Tent ENG: TABLE Social Distancing Table Ten TENT
Disinfection Checklist ENG: POSTER_DISINFECTCHECKLIST
Mandatory Mask Sign ENG:
Social Distancing Floor Marker "X" ENG:
Social Distancing Sign, "Stand on Dot" ENG:
Social Distancing "Dot" Floor Marker ENG:
Exit Sign, "Please wash your hands" ENG:
Social Distancing Yard Sign ENG/SPAN:
Go Home If You Are Sick Poster ENG:
Don't Come Into Work If You Are Sick Poster ENG:
Women's Bathroom Hand Hygiene Sign ENG:
Men's Bathroom Hand Hygiene Sign ENG:
Washing Your Hands "Happy Birthday" Sign ENG:
Washing Your Hands "Happy Birthday" Full Sign ENG:
Materials for Employers: