VA-SORH Projects
Virginia State Office of Rural Health Plan
The Virginia State Office of Rural Health is excited to announce the release of the Virginia Rural Health Plan 2022-2026 (VRHP). The goal of this working action plan is to showcase the resiliency and highlight the assets of the Commonwealth's rural communities.
The scope of the VRHP has been advised by a series of community conversations and site visits that took place between the months of October 2019 through March 2020. The community conversations were held in rural communities throughout the Commonwealth. These conversations were held over a warm supper, where local leaders led the conversation with the intention of learning and fortifying the local/ regional health and wellness needs, opportunities, and community assets.
For more information and to download the Virginia Rural Health Plan, click here.
The Rural Virginia Initiative (RVI) Dashboard is a Rural Tool Kit of community and academic resources to be deployed as part of the State Rural Health Plan Update.
---
VA-SORH Rural Health Briefs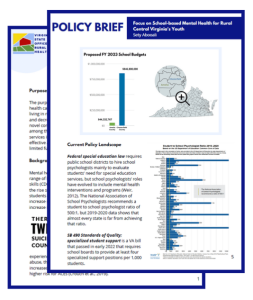 The Virginia State Office of Rural Health will be publishing a monthly series of rural health briefs. The intention of these
 briefs is to provide the reader a better understanding of the challenges rural and underserved communities have faced during the COVID-19 pandemic. Each brief will address different health-related topics and provide opportunities for improvement on how to build a healthier rural Virginia during, and following the pandemic.
To access the monthly VA-SORH Rural Health Briefs, click here.
---
VA-SORH E-Newsletter

Every other week, VA-SORH publishes an e-newsletter sent directly to subscribers' email inboxes. These newsletters feature VA-SORH updates, information and resources for providers, upcoming meetings and webinars, and funding opportunities.
To access previously published editions of the e-newsletter or to subscribe, click here.
---
The VA-SORH Photo Contest is a newly established annual contest designed to celebrate the beauty of rural Virginia. The 2022 VA-SORH Photo Contest begins on September 12th, check back then for more information.