The Rappahannock Rapidan Health District (RRHD) is scheduling COVID-19 vaccinations at Germanna Community College in Culpeper, 18121 Technology Dr., Culpeper, VA 22701.  We are now offering walk-in availability at our clinics.  Simply drive in during any of the clinic times listed below, and let the volunteer know that you are there to get a COVID-19 shot.
For those that prefer an appointment, you may use any of the links below to schedule at your convenience.
June 9, 1030-1800
Pfizer
Moderna
June 10
Pfizer – 1200-1830
Moderna – 1200-1900
June 11
Pfizer – 1200-1700
Moderna – 0830-1700
If you need assistance by phone, please call 540-308-6072.
You can also find local sites, within RRHD, that currently have appointments by visiting vaccinefinder.org, typing in your zip code, and entering "50 miles" in the Search Within field.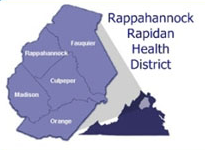 Our mission is to attain optimal health for the people of our community through disease prevention, environmental safeguards and health promotion.
Colin M. Greene, MD, MPH
Acting District Health Director
Virginia has moved to Phase 2 for COVID-19 vaccinations.  All residents age 16 and older (Pfizer) and 18 and older (Moderna)  are now eligible to receive COVID-19 vaccine.

If you are looking for a COVID-19 vaccine, we now recommend you use  vaccinefinder.org.   RRHD will no longer use the vaccinate.virginia.gov pre-registration list.   We will make one more attempt to reach residents that completed the pre-registration but have not responded to appointment offers.

If you signed up on the pre-registration list and have not received an appointment, please call 540-308-6072 or email askrrhd@vdh.virginia.gov.  A staff member will assist you with making an appointment.

The Virginia Department of Health does not endorse one COVID-19 vaccine over another. We encourage everyone to take the first vaccine available.

Executive Order 72 increases the person limit on indoor social gatherings to 50, and 100 in outdoor settings.  The order also maintains the requirement to wear masks in public places, guidelines for businesses, and other provisions.

As always, please remember to follow the 4Ws:  watch your distance, wear your mask, wash your hands, and wait to go back to work if sick.
2020 Planning District 9 Community Health Needs Assessment Final Report
2020 Culpeper-Madison-Orange Community Health Needs Assessment Final Report
2020 Fauquier-Rappahannock Community Health Needs Assessment Final Report
| | |
| --- | --- |
| | Or call 540.316.6302 |