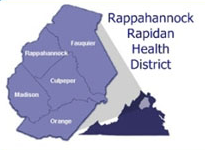 Our mission is to attain optimal health for the people of our community through disease prevention, environmental safeguards and health promotion.
Colin M. Greene, MD, MPH
Acting District Health Director
Virginia has made significant progress with COVID vaccinations, with more than 2 million doses administered. Even so, there are still simply not enough doses available yet for everyone who is eligible to receive them. Virginia is not likely to meet the demand for Phase 1b until April.

The Rappahannock-Rapidan Health District is in Phase 1c of vaccine eligibility.  We will continue to vaccinate anyone in Phase 1a and 1b who registers to receive it. While vaccine supply is increasing, it remains limited so please be patient as we work through the priority groups and get to each person who desires vaccination as soon as possible. We are devoting every available resource to this effort.

Phase 1c includes essential workers in energy, water, wastewater and waste removal, housing and construction, food service, transportation and logistics, institutions of higher learning, finance, information technology and communications, media, legal services, public safety and public health. All phases are identified in detail at www.vdh.virginia.gov/covid-19-vaccine/.

The Commonwealth of Virginia recently launched a Statewide Vaccine Pre-Registration System for individuals and for people who qualify for Phase 1B based on their work role. At this time we are asking that eligible individuals and essential workers in Virginia pre-register at vaccinate.virginia.gov or 877-VAX-IN-VA. To protect employee health information and promote equity among employees of many types of businesses and organizations, employees are no longer being pre-registered through employers.

The new central Vaccinate Virginia phone number, 877-VAX-IN-VA (877-829-4682) is available seven days a week, from 8 a.m. to 8 p.m. Service is available immediately in English and Spanish, with real-time interpreter services available in any of more than 100 languages as needed.

The U.S. Food and Drug Administration has granted Emergency Use Authorization for the Johnson & Johnson COVID-19 vaccine, following previous authorization for the Moderna and Pfizer-BioNTech vaccines. All three vaccines are safe and virtually eliminate the risk of hospitalization or death from COVID-19. While there are a variety of differences between the three vaccines, the most important is that Johnson & Johnson only requires one dose rather than the two doses required by Moderna and Pfizer-BioNTech.

The Virginia Department of Health does not endorse one COVID-19 vaccine over another. We encourage everyone to take the first vaccine available.

Executive Order 72 maintains the 10-person limit on social gatherings, the requirement to wear masks in public places, guidelines for businesses, and other provisions. It is essential to continue these mitigation strategies even by people who are vaccinated.

Here is what this means for you:

The RRHD registration surveys for individuals and essential businesses are no longer active.
If you've already filled out our health district individual survey form, your information will automatically be transferred into the new system. You will maintain your place in the queue, and won't be giving up your place in line.
If you previously filled out our essential worker registration form it is time to have all your employees who want vaccine go to virginia.gov or call 877-275-8343 to pre-register individually.
If you haven't filled out a pre-registration form please visit virginia.gov to pre-register.

In response to some FAQs:

If you have questions, contact the new Virginia call center hotline at 877-275-8343. It is open from 8 a.m. to 8 p.m. daily, with staff available to help those who don't have computers or have difficulty using them. Language translation will be available.
If you registered two people but used one email address for both (e.g., parents, couples, etc.), that is OK.  The system will use full name and date of birth and other unique characteristics to identify unique individuals.
The system is unable to provide your "number" or place in the queue.  There are not enough doses available for everyone who is eligible to receive a vaccine. The latest knowledge as of March 4 is that Virginia is not likely to meet the demand for Phase 1b until March or April. It may be weeks or longer before vaccination appointments become available for those who have pre-registered. Please remember that we are working through the list as quickly as we can with the number of vaccine doses available to us.
2020 Planning District 9 Community Health Needs Assessment Final Report
2020 Culpeper-Madison-Orange Community Health Needs Assessment Final Report
2020 Fauquier-Rappahannock Community Health Needs Assessment Final Report
| | |
| --- | --- |
| | Or call 540.316.6302 |